North End's Santa Rosalia di Palermo Society celebrates 75th year
---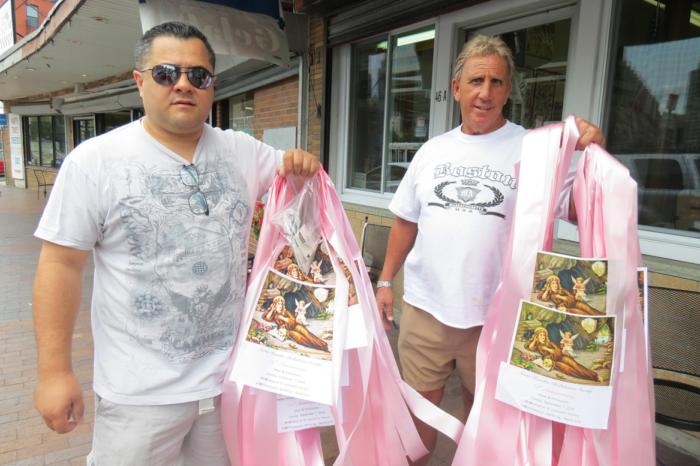 Members of the St. Rosalia di Palermo Society, Danny Puccio (president) of Medford and Charlie Maniscalco of the North End distribute calendars on Salem Street to local businesses. Pilot photo/Aileen McElroy
Help us expand our reach! Please share this article
The Santa Rosalia di Palermo Society of Boston will celebrate its 75th anniversary Sunday, Sept. 7 and invite all to join with a 10:30 a.m. Mass at St. Leonard, a coffee and doughnuts breakfast and a 1 p.m. procession in honor of St. Rosalia.

St. Rosalia, also known by her English name St. Rosalie, is the patron saint of Palermo, Sicily. She was born in Palermo in 1130 of a noble family descended from King Charlemagne. According to tradition, a pair of angels lead the young and devout Rosalia to a cave on Mount Pelligrino where she lead a solitary and spiritual life until her death in 1166. It is said that on the cave's walls she scrawled, "I, Rosalia, daughter of Sinibald, Lord of Roses, and Quisquina, have taken the resolution to live in this cave for the love of my Lord, Jesus Christ."

Centuries later in the early 1600s, the city of Palermo was ravaged by a plague and went under quarantine. St. Rosalia interceded when she appeared to a hunter and led him to the cave on the mountain containing her remains. She asked the hunter to carry her bones in a procession through Palermo. After the hunter walked the streets carrying her bones, the plague ended and Rosalia was regarded as "Santuzza," the little saint who saved her people from the plague. St. Rosalia is now the patron saint of Palermo, where a celebration is held in her honor every July 14 and a procession atop Mount Pellegrino occurs every Sept. 8.

In the North End, in 1939, a society dedicated to St. Rosalia was formed among families descended from Palermo so that they could continue to venerate their patron saint.

"The tradition was passed down among our cousins and uncles," says Danny Puccio, president of the Saint Rosalia di Palermo Society. "The procession was dormant in the '60s and most of the '70s but it was Joe Longo, our president for 20 years, from 1979 until 1999, who revitalized the tradition and put us on the map."

Every year, in early September, society members carry the 175-pound St. Rosalia statue from her home at Sacred Heart Church and collect calendars, pink ribbons laden with dollar bills from attendees, local restaurants, bakeries and businesses. Members adorn the long ribbons of money to the statue. The calendars will later be used for society funds and donated to local charities. Serenaded by the society's band, members dressed in white with brown sashes, weave through neighborhood streets throughout the afternoon.

For more than 30 years, Puccio has participated in the celebration of St. Rosalia. As a child in the 1980s, Puccio marched alongside his father, Gaspare, and older brother, Lorenzo, who were born in Palermo.

"My mother would dress me up as a cardinal and my cousin was dressed as St. Rosalie," he says. "In the '80s we really grew with Joe. We had three-day festivals at Christopher Columbus Park. It was excellent."

From 1999 until 2013, Longo's son Anthony Longo lead the society. Puccio was elected Puccio as president earlier this year.

"To me, it's just a title," he says. "Others may view it different. Don't get me wrong. I am truly honored to be president and in a league with my predecessors. However, without good people around, I cannot be successful and I am truly blessed and thankful for the hard work our members do. We are certainly in a period of growth within the society, hopefully we can continue to grow and keep this tradition going."

As the St. Rosalia festival draws near, Puccio reflects on his father Gaspare who introduced him to the St. Rosalie Society as a boy in 1979 and helped induct him as a member when he turned 18.

"My father passed in 2003 and it is in his memory I do this now," says Puccio.

Over the years Puccio has visited Palermo, reconnecting with family overseas and learning more of St. Rosalie. Puccio attended Mass at the Cathedral of Palermo, where a commanding statue of St. Rosalie is framed by palms on the outside plaza. Puccio also made the pilgrimmage to St. Rosalie's shrine, a cave atop Mount Pelligrino overlooking the bay.

"It is pretty amazing to see this grotto built into the mountain," Puccio says.

The shrine's sanctuary contains a statue of the little saint wearing a crown of roses and holding a cross.

"It is a beautiful statue of her all adorned in golden dress," he says.

While walking through the Sicilian city's old quarter, Puccio happened to meet the artist who created the St. Rosalia statue at Sacred Heart Church on North Square.

"I was walking on Via Lincoln and came upon a store selling sculptures and I recognized the statue in the window, that it was the same as the St. Rosalie statue we have here in Boston. I went into the store, met the son and said, 'My God, is this your statue?' He introduced me to his father, the artist, and he showed me photos of the papier-mache statue he created for the Sacred Heart Church years ago. I was so honored to meet him."

Puccio is excited about the society's 75th anniversary in Boston Sept. 7. In addition, this year's procession will contain two bands: the Society's official Italian-American band of Lawrence playing a medley of hymns and Italian melodies and the Sons of Italy Drum and Bugle Corps of Haverhill.

"I hope everyone who comes, enjoys the day with us in honor of St. Rosalie, enjoys the music and walking the procession with us," he says.

The St. Rosalia di Palermo Society procession is at 1 p.m. on Sunday, Sept. 7 at North Square in the North End.

For more information, please visit: www.facebook.com/pages/Santa-Rosalia-Di-Palermo-Society-Boston/93033795889.