Cardinal O'Malley urges prayers for Iraqi Christians
---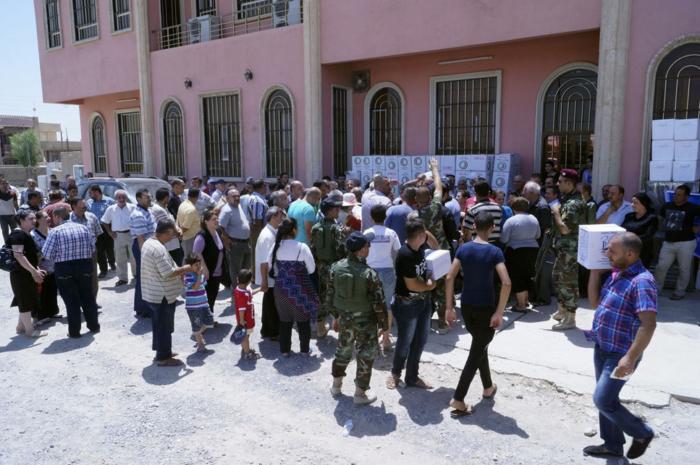 Displaced Christians wait for humanitarian aid July 20 at a church in the Iraqi town of Hamdaniya, east of Mosul. Chaldean Archbishop Amel Shamon Nona of Mosul said the Islamic State of Iraq and Syria, which took control of Iraq's second-largest city in early June, is carrying out "religious cleansing." CNS photo/Reuters
Help us expand our reach! Please share this article
BRAINTREE -- In a July 25 posting on his blog, CardinalSeansBlog.org, Cardinal Seán P. O'Malley reacted to recent incidents of persecution against Christians in the Middle East and elsewhere.

He spoke particularly about a meeting that week between Pope Francis and Meriam Ibrahim, a Christian woman previously faced with a death sentence in Sudan for refusal to renounce Christianity. She had been imprisoned again upon attempting to leave the country after officials yielded to international pressure for her release, in July.

"He thanked her for her courageous witness to perseverance in the Faith. Meriam's commitment to her faith is inspirational, and it should encourage us to deeper faith and a willingness to share that faith with others," Cardinal O'Malley said.

After leaving Sudan with her daughter and her husband, Ibrahim made her first stop in Rome, where she had the opportunity to meet the Pope.

The cardinal also raised the issue of Christian persecution in Iraq.

"I'm sure many of you have watched the news coming out of Iraq, particularly out of Mosul where there are very few Christians left after being forced out by Islamic jihadists. Christians have lived in Mosul, which is Iraq's second largest city, for nearly two thousand years. Now convents, monasteries and churches have all been evacuated and Christian families are being forced out because of their faith," the cardinal said.

He called the local Church to prayer on the behalf of Christians there -- many of whom belonged to the Syriac Catholic rite, which has a mission community in Newton.

"Please join me in praying for our Christian brothers and sisters in Iraq: we stand in solidarity with them, and we suffer with them, for as scripture says -- when one member of the body suffers, all suffer," he said.