Local family shares in joy of first Haitian cardinal
---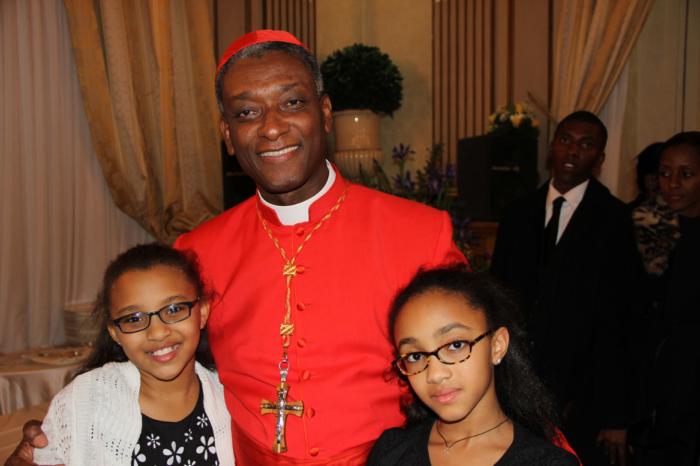 Marline and Eloise Jean-Marie, students at the Cheverus School in Malden pose with their relative Cardinal Chibly Langlois of Les Cayes, Haiti at the Vatican following the Feb. 22 consistory where he became the first cardinal from Haiti. Pilot photo/courtesy the Jean-Marie family
Help us expand our reach! Please share this article
MALDEN -- When Pope Francis announced the appointment of the first Haitian cardinal on Jan. 12, the anniversary of an earthquake that devastated Haiti in 2010, Haitians at home and abroad rejoiced but for one local family, the joy hit especially close to home.

That day, Marie Francoise Jean-Marie mother of two girls at the Cheverus School in Malden, fifth-grader Marline and fourth-grader Eloise, woke up the household when she received the early-morning call that Pope Francis had selected her cousin, Bishop Chibly Langlois of Les Cayes, a cardinal.

"I was yelling and screaming, and was running around the house, because it was really very exciting. I stayed on the phone for half hour," Marie Jean-Marie said.

She said she was, "almost late for my work because we had everybody over the phone. I had my sister in Haiti, my sister in Canada, and my older brothers in New York and New Jersey. My parents also were on the phone, so we were talking like crazy. Everybody was very excited," she said.

The significance of the date of the announcement seemed providential to the family, because it marked the anniversary of the earthquake in Haiti that killed an estimated 220,000 people and left 1.5 million homeless.

Marie Jean-Marie said Pope Francis chose the right man to become cardinal after such a tragedy.

"He is very humble, and he is working a lot with the poor. That is his main priority," she said.

She said she has known Cardinal Langlois since childhood, because her family took him in when the cardinal lost his father as a young man.

"It was not like an adoption, because his mother was still there. It's just that economically it was easier for him to stay with us than with his mother," she said.

Her mother and father had served as his godparents and treated him as family.

"I grew up in a big family. I have three brothers and three sisters. With him, we always said we were eight," she said.

The family helped him get through school and supported his ministry in the Church as it progressed throughout his life.

Six years after Cardinal Langlois entered Port-au-Prince's major seminary in 1985, he received ordination in 1991. In 2004, Blessed Pope John Paul II appointed him bishop of the Diocese of Fort-Liberte, before he became Bishop of Les Cayes and president of the bishops' conference in 2011.

"When he became a bishop, the first thing my father told him (was) that 'We don't have a cardinal in Haiti, but you're going to be the first one.' So, it's like we knew that was coming," Marie F. Jean-Marie said.

The news that he received the appointment alongside 18 other new cardinals meant not only that the Jean-Marie family would be welcoming a cardinal to the family, but also paved the way for another exciting experience -- a trip to Rome.

"I was so excited when I got your note telling me that the girls were going to be absent," the principal of Cheverus School Susan Degnan told Marie Francoise Jean-Marie, during an interview at the school.

The school sent along a gift for the new cardinal with the family and began a donation drive to support a parish in Haiti of Cardinal Langlois' choice.

During the trip to Rome for Feb. 22 consistory, the Jean-Marie family visited the Spanish Steps and the Coliseum, saw Pope Francis, and met the president of Haiti Michel J. Martelly.

The girls said they enjoyed the trip and remembered spending time with the new cardinal, and hearing him thank God for the decision of Pope Francis in choosing him. However, they said their first experience of a certain Italian dessert really stood out.

"My favorite part about Rome was the dessert gelato," Marline Jean-Marie said.

Her sister, Eloise Jean-Marie, confirmed the sentiment.

Marie F. Jean-Marie said her cousin's first homily as a cardinal stood out for her, with a message reminiscent of the leadership of Pope Francis.

"He said that even though he is a bishop, and now he is a cardinal, he considers himself as a priest and he is going to stay working with the poor, like he usually does," said.