Revere faith leaders pray for defeat of casino proposal
---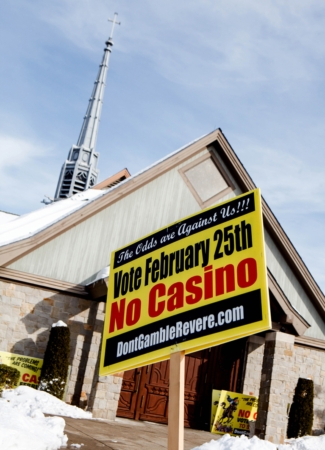 Anti-casino signs stand outside Immaculate Conception Church in Revere Feb. 16. Pilot photo/Gregory L. Tracy
Help us expand our reach! Please share this article
REVERE -- Catholic, Protestant, Jewish and Muslim leaders in Revere gathered at the sanctuary of Immaculate Conception Parish, Feb. 16, for an ecumenical prayer gathering to oppose casino gambling in their city.

Shortly following the November defeat of a proposal for a casino in East Boston and Revere, Revere officials, Suffolk Downs and Mohegan Sun announced their intention to develop a new proposal situating the casino solely on Revere land. A referendum on the revised proposal goes before voters Feb. 25.

Friends of Revere -- a group of pastors, priests and ministers representing various traditions, denominations and congregations in Revere -- described the proposal as "a direct threat to the families and children who live in Revere."

Similar interfaith and ecumenical unity in East Boston appeared to contribute to the November defeat, but the renewed proposal created a need for further organization for faith communities opposed to the dangers a casino might bring.

"The first sure bet that the casino is going to bring us is increased crime,'' said Rev. Nicholas Granitsas, senior pastor of the First Congregational Church in Revere.

He also cited gambling addiction, increased traffic, and a negative impact on local businesses as possible results of a casino.

"So, because we have to love our neighbor as ourselves, we must be opposed to the casino," he said.

Members of Friends of Revere continue to lead their congregations, mosques and synagogues in what has become several weeks of prayer for positive future development in Revere, and they have also been preaching about the harmful effects that a casino will have in their neighborhood.

Rabbi Joseph Berman, a founding member of Friends of Revere, started his talk during the gathering with a prayer for knowledge and wisdom in Hebrew and English.

"Help us to know, O God, help us to know about the negative effects of a casino coming to our city," he said.

Father George Szal, pastor of Immaculate Conception Parish, spoke on behalf of the united faith community in Revere.

"Christians have been around for 2,000 years. The Jewish people have been around for 3,800 years -- if you go back to Abraham. The Muslim tradition, Islam, has been here for 1,400 years. That's over 7,000 years of tradition saying gambling stinks. Out of what tradition does Mohegan Sun speak?" he asked.

Reports by Gregory L. Tracy contributed to this story.