Bishop Deeley installed as 12th Bishop of Portland
---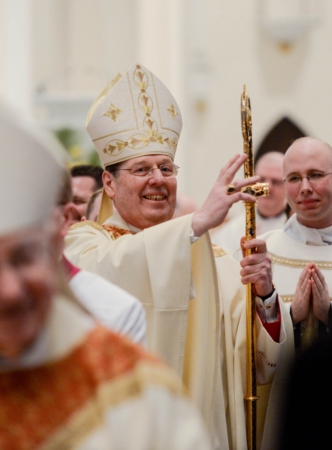 Bishop Robert P. Deeley was installed as the 12th Bishop of Portland, Maine Feb. 14 at Portland's Cathedral of the Immaculate Conception. Pool photo/McKenney Photography
Help us expand our reach! Please share this article
PORTLAND -- Bishop Robert P. Deeley took his place as the 12th Bishop of Portland, Feb. 14, at the Cathedral of the Immaculate Conception in Portland, Maine.

More than 1,000 people from all over Maine and beyond filled the cathedral alongside more than 100 priests and about a dozen bishops for the Mass of Installation.

As part of the introductory rite, Bishop Deeley pounded on the doors of the cathedral with a hammer, as he symbolically laid claim to the cathedral. His predecessor, Bishop Richard J. Malone, now the Bishop of Buffalo, N.Y., greeted him at the door before he made remarks of welcome to his successor.

"As I stand in this cathedral ambo for my final official duty as the 11th bishop, and recently apostolic administrator of this blessed Diocese of Portland, I have the very happy privilege of extending a warm and hearty welcome to you all, Cardinal Seán, our metropolitan archbishop; Archbishop Vigano, our nuncio and personal representative of our Holy Father Pope Francis. My brother bishops, priests, deacons, religious, lay faithful, and family and friends of our new bishop, you are so very, very welcome here," Bishop Malone said.

''And to you Bishop Deeley let me simply say that we thank you, and we thank God for your episcopal ministry, and we thank our Holy Father Francis for sending you here as the 12th Bishop of Portland. God's people in Maine are grateful, and so am I," Bishop Malone added.

Cardinal Seán P. O'Malley gave greetings and presided at the liturgy.

"We are celebrating Saint Valentine's Day with the installation of a new bishop, an event that Archbishop (Charles) Chaput (of Philadelphia) likened to an arranged marriage. So, it is very fitting to be doing it on this feast day. We are here to celebrate this moment of renewal that comes about when the gift of apostolic succession gives the local community a priest in the chain of succession from the apostles. The ministry of the bishop is to make the pastoral love of the Good Shepherd present to God's people," he said.

After the greetings, the rite of canonical possession began. With the rite, the bishop assumed authority of the diocese according to the apostolic mandate sent by Pope Francis through the apostolic nuncio to the United States, Archbishop Carlo Maria Vigano.

The archbishop also greeted Bishop Deeley in his new position, on behalf of the Church and the pope.

"The people of God in front of me rejoice today, on this particular feast, as Bishop Robert Peter Deeley is sat and installed," Archbishop Vigano said.

Archbishop Vigano also read the papal bull, a form of apostolic letter, from Pope Francis naming Bishop Deeley the Bishop of Portland.

"By virtue of the fullness of our apostolic authority, by this letter, we release you from the bond of the Titular Church of Kearney and the office of auxiliary of Boston, and we name, and we appoint you Bishop of Portland," he said.

Archbishop Vigano then presented the apostolic letter to the chancellor of the diocese, Sister Rita-Mae Bissonette, RSR, in accordance with Canon Law. Sister Bissonette presented the letter to a priest advisory body to the bishop called the College of Consultors.

The cardinal and the nuncio then presented Bishop Deeley with his crosier, or pastoral staff, and led him to the cathedra, the special seat for a bishop in his cathedral symbolizing his apostolic and teaching authority.

The congregation applauded, before groups of local Catholics, ecumenical representatives, and interreligious communities greeted the bishop.

Bishop Deeley went on to give his first homily as Bishop of Portland.

He began by reminding all those gathered of the importance of maintaining a focus on the centrality of Jesus Christ himself and his message in the Gospel.

"We believe that Gospel is the source of joy and meaning for our lives. As I begin my service to you as your 12th shepherd, I ask once again that you pray for me as we embark together on this new chapter in the history of this grace-filled local Church," Bishop Deeley said.

He also thanked the cardinal and three former Bishops of Portland who were present for the installation, Bishop Malone, Bishop Joseph J. Gerry and Bishop Peter L. Gerety.

As he shared his thanks with the gathered, he offered more information about himself and the people who supported his ministry in the past.

"I am grateful as well today for the presence of my family. I would point out that we do take up a few benches. There could be more of us, but I suggested someone stay home. We didn't want to take up the whole cathedral. My family is a source of great blessing for me," he said.

He also indicated his intention to work toward greater familiarity with the Catholic community there.

"I know already of the wonderful work that is done throughout the diocese in the service of God's people. Getting to know you better will include becoming acquainted with the vast beautiful territory, and all of the many roads, that is the State of Maine," he said.

He also related his personal history to the Gospel reading of the Mass, Luke 19:1-10, the story of Jesus arriving in Jericho and stopping to summon the tax collector Zacchaeus down from a tree to give the Lord a place to stay.

"This Gospel story is a favorite of many people but, as I reflected on it, I recalled that it was a favorite Scripture passage of a priest who was very important in my life. His name was Msgr. John Keilty. He was in my parish when I was in school. He had a great influence on my life, and encouraged me to listen to the Lord's call to enter the seminary," Bishop Deeley said.

He said he served again with Msgr. Keilty in his later years, and found that the older priest held particular love for the story.

"He loved to preach on this Gospel. Msgr. Keilty was short in stature, and he would tell how he identified with Zacchaeus who had to climb into the tree to see Jesus coming. But, as he preached, you came to know that there was another, more important, reason he identified with Zacchaeus. Jesus recognized and accepted Zacchaeus, even though he was not a perfect man. In this Gospel story Msgr. Keilty himself came to know Jesus as loving him, and he was happy to bring that Good News, that Gospel, to others in his preaching and in his life. How many of us cannot help but see in this story of Zacchaeus the very heart of the Gospel?" Bishop Deeley asked.

He went on to speak of his vision of moving the diocese forward with a focus on the Gospel.

"We are called in a particular way to bring that to those who suffer, and more specifically to those who are poor, marginalized, lonely or forgotten. I know that we have many such programs, organizations and parish outreach opportunities in this diocese. It is only right, for it is the way in which we put our faith into action. And, as we serve others, even though we can experience it as a real challenge in our world today, we must continue to bear witness to the dignity of human life and every human person from conception to natural death, the dignity of Christian marriage and the good of children which is intimately part of this sacred union. It is the dignity of each person as well that grounds our special love and concern for the poor, and calls us to be vigilant in the protection of religious liberty so that we can continue to advocate for the goods of human life we find grounded in reason and enshrined in the teaching of the Gospel," he said.

He pointed to the need for priests as a central concern of the Church.

"It is our responsibility, as priests and laity alike, to pray and work for an increase in vocations to the priesthood and religious life. Part of that responsibility will be fulfilled in inviting our young people, and particularly our young men, to consider how they are going to respond to Jesus' call to them," he said.

He also spoke about the need to create an ongoing dialogue in his deliberation on the specifics of his vision for the Diocese of Portland.

"In my remarks at the press conference announcing my appointment, I said that I had no agenda or program, and I do not have one today either. We need to set that program together. I need to hear from you. We need to get to know each other," he said.

Before he closed the Mass with a blessing, he thanked more people for organizing the installation Mass -- including the chancellor Sister Rita-Mae Bissonnette and the Moderator of the Curia Msgr. Andrew Dubois -- and cracked a few more jokes.

"We are grateful for everyone here who helped in the liturgy of the service, the seminarians, the religious from the diocese, and the faithful cathedral servers as well, the readers, the gift bearers, and all who participated in this liturgy -- and those who had made great plans for the vespers yesterday and who were ready to participate, but ... snow. It's Maine," he said.

He also thanked the rector Father Louis J. Phillips.

"Father Lou was telling me the other night that he had a temporary worker who was helping out here. He told him that ... we were doing things because we had to install a bishop, and the worker asked him, 'Well, what's a bishop and what tool will I need to install it?'" Bishop Deeley said.

"Just your love," he said.