---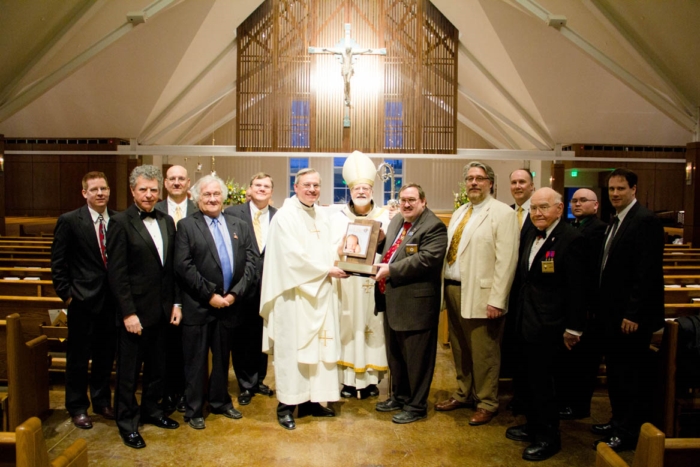 Mass. State Deputy for the Knights of Columbus Peter Healy presents members of the St. Bonaventure Council the Award for Culture of Life Activities, Jan. 26. Pilot photo/Christopher S. Pineo
Help us expand our reach! Please share this article
St. Bonaventure K of C receives international pro-life award

The Knights of Columbus at St. Bonaventure Parish in Plymouth received international recognition for their commitment to the gospel of life in 2013.

State deputy of the Massachusetts for the Knights of Columbus Peter Healy presented the council with the Third Place Award for Culture of Life Activities, Jan. 26, after the dedication of the parish's new church building.

"St. Bonaventure Council came in third across all 14,000 councils in the jurisdiction of the Knights of Columbus, so we are real happy to be able to give this award to them," said.

Healy explained that the St. Bonaventure Parish Knights of Columbus distinguished themselves internationally by winning the award, after previously receiving first place on a state level.

During the recent State Convention of the Massachusetts Knight of Columbus in May 2013, the St. Bonaventure Council, #10049, was recognized for its efforts sponsoring the annual Baby Shower Drive.

The St. Bonaventure Council was presented with the state's pro-life award for "Building a Culture of Life."

As a result of parishioner support for council efforts in the drive, the local knights presented the Archdiocese of Boston's Pregnancy Help Center with over $3,000 in cash and material donations -- including infant clothes, and other baby-care items.

On their website, the parish said the initiative generated extensive local media coverage and promoted "the message that the pro-life effort is a positive one, which focuses on an active commitment to assisting and improving support services for pregnant women."

Framingham native Maryknoller celebrates 60th jubilee

Sister Catherine J. Erisman, MM, a refugee worker, researcher and educator, who served for more than 40 years in Africa, celebrated 60 years with the Maryknoll Sisters at a Mass Feb. 9, at Maryknoll Sisters Center in Maryknoll, N.Y.

Born in Framingham, Sister Catherine entered Maryknoll at its motherhouse in 1954 from St. Joseph's Parish in Needham. A 1954 graduate of Catholic University in Washington, with a bachelor of science in nursing, Sister Catherine became a registered nurse at Boston Children's Hospital in 1951.

After serving as a teacher and staff person of the school clinic in Morogoro, Tanzania, from 1957-1963, Sister Catherine taught math and geography and worked in the school clinic in Mwanza, Tanzania, from 1963-1965. She became headmistress of the Maryknoll Sisters' school in Bukobo, Tanzania, in 1965.

Sister Catherine returned to the motherhouse in 1980 and became director of the center health unit in 1983. She returned to Africa in 1985 and in 1986 moved to Nairobi, Kenya, where she researched the refugee situation throughout Africa. She worked with refugees in Somalia from 1987-1989.

Following two years of service in the congregation's Africa World Section house in Kenya, Sister Catherine became involved with the AIDS ministry operated by the Archdiocese of Mwanza in Tanzania from 1992-1994, and helped found the Jesuit Refugee Service from 1995-2003. She currently serves as co-coordinator of the Rogers Community in Maryknoll.

Shea is new chair of Regis board

Joan C. Shea of Melrose began her service as chair of the Regis College Board of Trustees Jan. 1.

Shea is currently the deputy comptroller and chief information officer for the State of Massachusetts, directing the operations of state financial systems since 2003. She also previously headed Shea Solutions, Inc., a professional services firm providing strategic and managerial consulting to public and non-profit industries.

Shea has been a member of the Regis College Board since 2008 and began her second term on the board in January 2012.

"Having worked in both the private and public sectors throughout her career, Joan Shea has already brought a wealth of financial, management, and human resources knowledge to our growing university," said Regis College president Antoinette Hays.

A graduate of the Newton College of the Sacred Heart, Shea earned her two Master's degrees in business and social service administration from the University of Chicago in 1978. Among many accomplishments in her career, she has developed systems infrastructure for City Year and designed and implemented management systems for a variety of entities. Shea spent seven years in the Arthur Young consulting practice and was the director of government consulting for New England. Shea also teaches as an adjunct instructor at Sawyer School of Management at Suffolk University.

"With the college's implementation of a strategic plan including building up a global footprint, creating new academic and industry partnerships, and rolling out a Master Plan for development of the west campus, it's an exciting time at Regis. I am eager to work with board colleagues, faculty and staff during this time of growth," said Shea.

"Joan Shea possesses a mastery of systems and keen insight into the changing times for all social institutions, including those of higher education. As chair of the Board Facilities Committee she has been central to the Master Plan process and an active, strategic participant in board decision-making, and Joan is very well equipped to guide the board as it guides the college toward completion of its transformation in the changing times of higher education," outgoing board chair Donna M. Norris said.