Revere faith leaders unite against proposed casino
---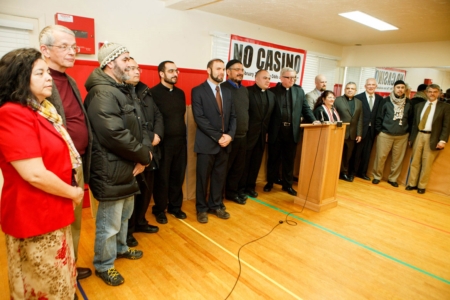 Religious leaders of Revere stand together following a Feb. 3 press conference voice their opposition to a proposed casino in their city. The proposal will go before Revere voters on Feb. 25. Pilot photo/Gregory L. Tracy
Help us expand our reach! Please share this article
REVERE -- Hoping to draw on the success of neighboring East Boston, faith leaders from Revere gathered for a press conference Feb. 3 to voice their opposition to a proposed casino at the Suffolk Downs site that will go before voters this month.

In December, East Boston voters struck down a casino proposal after faith leaders came together and urged their flocks to oppose the initiative.

The original plan called for a casino that would have been built by Mohegan Sun, a Connecticut casino company, on Suffolk Downs property lying both in East Boston and Revere. According to the law allowing for resort casinos in the state, that proposal was required to be approved by voters in both cities.

On Nov. 5 voters in East Boston turned down the project by a vote of 4,281 to 3,353, while voters in Revere accepted the project 6,566 to 4,232, effectively killing the original plan.

Shortly following the East Boston defeat, Revere officials, Suffolk Downs and Mohegan Sun announced their intention to develop a new proposal situating the casino solely on Revere land. On Dec. 10, Massachusetts Gaming Commission allowed Suffolk Downs and Mohegan Sun to request a waiver from the commission rule that would have required the new proposal be put before voters by the end of December.

The Revere-only casino proposal will now go before voters Feb. 25.

Although each of the seven faith community leaders who spoke at the press conference came from differing perspectives, all were unanimous in their hope that Revere voters will reject the proposed casino.

Representing the local Muslim community, Imam Sherif Shabaka said, "It's about time that all monotheistic religions come together to fight (materialism)."

"We are in the same trench together. What we need to do is to have each other's back here," he added.

"I want you not just to vote 'No' for yourself. I want you to bring 100 people with you," Shabaka added, as the audience broke into applause.

Rev. Tim Bogertman of the First Congregational Church of Revere said, "God has something better in store for Revere than the casino" and urged voters to visit the religious coalition's website, FriendsofRevere.com. He added that the coalition also supports the work of the organization DontGambleRevere.com.

Rev. Bogertman said those who oppose the casino have felt pressure to change their views.

"We have received stories from minority store owners who have been bullied by city counselors and told to remove signs, anti-casino signs, from their store and told to put 'yes' signs up," he said.

"We will not put up with the culture of fear in this community," he declared.

"Although this casino is promising many things, there are some things that are guaranteed," said Rev. Nick Granitsas, also of the First Congregational Church, noting the projected rise in crime, compulsive gambling and traffic that would accompany a new casino.

"Gambling is destructive -- not just of individuals but of families and of communities," echoed Father George Szal, pastor of Immaculate Conception Parish. "It's short-term gain, long-term pain."

"(Casinos) don't produce anything...One person may come out with a pocket full of money, but it's at the expense of all those who have lost millions," he said. "Predatory gambling is immoral."

Father Felipe Gonzalez, parochial vicar at the Cathedral of the Holy Cross, spoke of his personal experience with a family member who became addicted to gambling. He said that family member almost lost his family and, even his life, because of compulsive gambling.

"That experience shows that it affects everyone. If it affects one, it affects all," Father Gonzalez said.

He also read from a 2001 letter written by Cardinal Seán P. O'Malley, when he was Bishop of Fall River, in which he strongly voiced his opposition to casinos.

"There is no doubt that gambling victimizes the poor," Cardinal O'Malley wrote.

"We all want what is best for our people, and there can be legitimate differences of opinion. I simply wish to urge caution lest we open the doors of our cities to what will be a 'Trojan Horse' that might contain many unpleasant surprises and unwanted baggage. Let's not take this gamble. The stakes are too high," the letter said.

Nelly Esteban, pastor of Betel Church, said, "I want peace for the city of Revere. Let me tell you why -- I love my kids; I love my city; and I don't want to bring about the destruction of my city."

Rabbi Joseph Berman, speaking on his own behalf, said, "A casino will create more brokenness in our community."

"Jewish tradition is virtually unambiguous in its opposition of gambling," he added.

Rev. David Martinez, pastor of Tabernaculo Evangelico church, noted the battle to defeat the proposed casino is quickly upon them.

"We have only 22 days," he said emphatically. "Do we want a casino? No!"

"My dear friends of Revere, think about Revere," Rev. Martinez added.

Speaking after the press conference, Father Szal expressed his optimism at the impending vote.

"I thought it (the casino) was a done deal," he said. "But then I began speaking with my parishioners and almost half of them are opposed to the casino. It's not a done deal at all."

The faith leaders said they will be urging their congregations to oppose the Revere casino during the next two weeks leading up to the vote, and another interfaith meeting is scheduled for Feb. 16.

"This is a bit like David and Goliath," said Rev. Granitsas, "But as we all know, David won in the end."