From Cardinal Seán's blog
---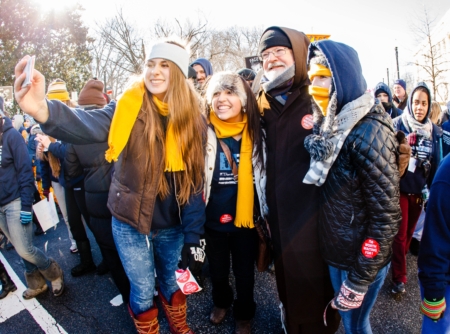 'Following the Mass, we went down to the National Mall to join the rally before the March for Life.' Pilot Photo/CardinalSeansBlog.org
Help us expand our reach! Please share this article
Friday (1/17), I hosted a gathering and reception for those people who, over the last year, have made a pilgrimage to the Holy Land to learn more about the Domus Jerusalem project, of which I am the president. It was very nice to see many of the pilgrims again. There was a presentation on the progress of the Domus Jerusalem and we commented on the fact that the Holy Father will be visiting the Holy Land in May and how important that part of the world is for believers. We are very anxious to have the presence of the Church strengthened there, and this project is one way of accomplishing that goal, by having this center of Catholic life in the very heart of Jerusalem.

2014 New York Encounter

That night (1/18), I left for New York to attend the 2014 New York Encounter sponsored by Communion and Liberation. The Apostolic Nuncio, Archbishop Vigano celebrated the Mass Sunday morning and then Msgr. Lorenzo Albacete and myself had a dialogue there on the stage. It was a very informal conversation about our shared experiences and about the new Holy Father. Of course, Msgr. Lorenzo was as entertaining as ever!

To Washington for the March

Sunday night (1/19), I went directly from New York to Washington, D.C., to be there for the March for Life. And, thank goodness I left when I did because, as those who followed the events of the March know, the weather turned very bad on the day before the March. Arriving early allowed me to spend some time with the friars at the monastery and on Monday, Martin Luther King Day, I went for a walk. It was 60 degrees and sunny, which made it hard to believe that we were really in for a snowstorm the next day and temperatures in the single digits -- which is almost unheard of in Washington. Well, as we know, the predictions were all too correct.

Mass with pro-life leaders

Every year, the chairman of the USCCB Committee on Pro-Life Activities celebrates a Mass the day before the March with pro-life leaders from throughout the country, including directors of diocesan pro-life offices, some state Catholic Conference directors and leaders of different pro-life movements such as Project Rachel. Archbishop Joseph Naumann and Washington Auxiliary Bishop Martin Holley concelebrated with me, along with a number of priests. The Mass is held at the Franciscan Monastery ...Afterwards there was a reception for the leaders.

Rally at the National Mall

Following the Mass, we went down to the National Mall to join the rally before the March for Life. I made an appearance on the stage briefly to greet the leaders from the various Orthodox Churches who, this year, delivered the opening prayer. Then I joined our group from the archdiocese on the March. It was sunny but very cold. I think it was about 6 degrees when we were walking, but despite the cold and the snow we had about 1,000 people who came from Boston to attend the March -- seminarians, parishioners and students.

Dinner with the friars

That evening, back at Capuchin College, Mother Olga and the Daughters of Mary of Nazareth who were in town for the March had dinner with the Friars. One of the friars, Brother Jonathan was celebrating his birthday and so the sisters sang some songs for him. They were very cleverly written songs, sung to the tune of songs from Sound of Music. It made for a very nice evening to thaw out after the March.