2014 Boston Catholic Directory to be issued in February
---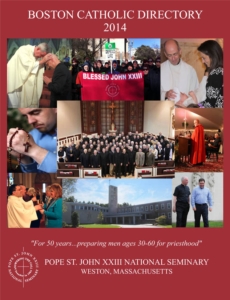 Help us expand our reach! Please share this article
BRAINTREE -- The 2014 edition of the Boston Catholic Directory is ready to go to press pending the naming of the new vicar general and moderator of the curia of the archdiocese.

The change in leadership is necessary following the naming of Bishop Robert Deeley as 12th Bishop of Portland, Maine.

The cover of the annual directory will feature Blessed John XXIII National Seminary in Weston, which is celebrating its golden jubilee of opening this year. In September, The Pilot staff will collaborate with the seminary in producing a special supplement to The Pilot celebrating the 50th anniversary. That issue is slated for Sept. 5, 2014.

The 2014 directory is expected to go to press in early February with delivery to parishes, agencies, advertisers and religious goods stores expected 14-18 days later. Watch The Pilot for announcements about delivery.

Copies of the directory will be available at all parishes of the archdiocese. Shop at your parish first for your own copy. In addition, several of our advertisers will also have copies available for sale at their businesses; make sure you call any of these businesses the last week of February to check on in store availability.

-- Andrew Lane Company, 3 Walter Street, Peabody 978-532-2050(back cover).

-- Sisters Disciples of the Divine Master, at both their 43 West Street, Boston (617-423-2629) and 66 Brooks Drive (Archdiocesan Pastoral Center) Braintree (617-779-4500) shops.

-- Daughters of St. Paul at their bookshop on 885 Providence Highway (Route One South) Dedham (781-326-5385).

-- Tally's Religious Goods, 1150 Pontiac Street, Cranston, Rhode Island (800-556-7272).