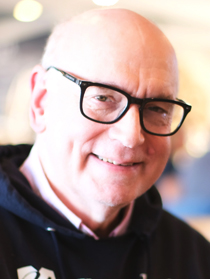 Knowing someone up for sainthood
---
Help us expand our reach! Please share this article
I had the good fortune of knowing Father Joseph Muzquiz, who died at age 70 in 1983 in Plymouth's Jordan Hospital and whose cause of beatification was formally opened here in Boston in 2011. There's a new 55-minute documentary about his life, entitled "Everyday Holiness," which will have its New England premier (free and open to the public) at the Pastoral Center, 66 Brooks Drive, Braintree, on Thursday, Jan. 23, at 7:30 p.m. Come if you can.

Full disclosure: I'm biased. For me, as for anyone I know who ever met Father Joseph, his holiness was evident, a no-brainer. I got a sneak preview of the film, and think it's great, a real inspiration. In fact, I even placed an ad in The Pilot advertising the documentary. (Some might think this column another commercial. So be it.) It's produced by Emmy-award winning John Paulson.

Okay, just the facts: Father Joseph Muzquiz started Opus Dei in the United States in 1949, along with then-layman Sal Ferigle. Both had met the founder of Opus Dei, St. Josemaria Escriva, while they were students. Both committed themselves at a young age to seek holiness through ordinary life and to spread the message of holiness through one's daily work and the fulfillment of the Christian's ordinary duties.

After World War II, Opus Dei, which is now a personal prelature international in scope, began to move beyond the Spain of its birth in 1928, and Father Joseph and Sal moved to Chicago to begin its work among Americans. Eventually, after an eventful life that brought him to various cities and countries, he moved to Boston for the last three years of his life. Father Sal Ferigle also spent the last years of his life here, which in his case was a quarter-century, and he in his turn died in 1997. They are buried alongside each other at St. Joseph Cemetery in West Roxbury.

I got to know Father Joseph in 1976, when he returned to the United States from Spain to serve as the head of Opus Dei in the country. At the time, I was living and studying as a law student in Washington, D.C., my hometown. He would frequently visit, and I still have a few personal letters from him during that time, always supernatural and encouraging. When his health deteriorated in 1980, he stepped down as regional vicar and moved to Boston to serve as chaplain and to preach retreats.

Venerable Alvaro del Portillo, then head of Opus Dei world-wide and who would be named its first prelate in 1982 and made bishop in 1991, and who will himself be beatified later this year, wrote him at the time: "I want to thank you with my whole heart ... for the spirit of sacrifice that you have shown so abundantly during all this time in carrying out the Work. I am fulfilling an obligation of justice in providing you a little well-deserved rest ...Your successor has asked me to leave you in that region where you worked with all your heart from the beginning, and where you are so justly loved."

There is a very good if short biography of Father Joseph written by John Coverdale, a law professor and historian at Seton Hall University. The book is entitled "Putting Down Roots: Father Joseph Muzquiz and the Growth of Opus Dei" (New York: Scepter Publishers 2009).

A trailer of the documentary can be viewed at www.josephmuzquiz.org. Prayer cards for his intercession can also be obtained through the website. I understand that the testimony on his life and virtues in the diocesan stage of his beatification process is wrapping up. If his heroic virtue is established and approved, ultimately by the Vatican, then there will be an investigation of any alleged miracles due to his intercession. If you need such a miracle (of healing, for example), I recommend asking Father Joseph to intercede with God on your behalf. He's a great friend to have in heaven.

Dwight G. Duncan is professor at UMass School of Law Dartmouth. He holds degrees in both civil and canon law.