State reps. debate doctor prescribed death again
---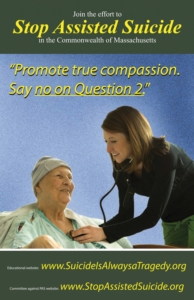 A poster from the November 2012 campaign to defeat a ballot question that would have legalized assisted suicide in Massachusetts. Now, a bill has been introduced in the Legislature that opponents say is more dangerous than Question 2. Pilot file photo
Help us expand our reach! Please share this article
BOSTON -- After the defeat of a ''doctor prescribed suicide'' bill at the ballot box last year, legislators on Beacon Hill have introduced a new bill with the same aim. Opponents say that this bill is more dangerous than Question 2, which failed by a very narrow margin -- 51 to 49 percent opposed -- on Nov. 6, 2012.

A hearing on the new bill, held at the Statehouse on Dec. 17, ended early due to a significant snowfall affecting the evening commute. Dozens were unable to testify, and advocates for people with disabilities said the snowstorm prevented many more from attending.

John Kelly -- director of Second Thoughts Massachusetts, a group that represents people with disabilities who oppose assisted suicide -- said that the hearing should have been postponed or the city should have done a better job of clearing the sidewalks. Kelly said that he wanted the committee to understand that sidewalks were too narrow and many ramps were not cleared that day.

"After hearing from people who could not make it, or tried going out and fell on the ice, I felt like it had to be the first thing addressed," he said.

Somewhere between 150-200 people attended the hearing, which began at 10 a.m. and ended around 1 p.m. The docket included 20 bills that day, but the doctor prescribed death bill "drew the crowds," according to Maureen Vacca, director of public policy for the Massachusetts Family Institute.

Entitled "Compassionate Aid in Dying," H1998 would allow doctors to prescribe a lethal dose of drugs to patients given less than six months to live, provided that they are "of sound mind." The bill's main sponsor is Rep. Louis L. Kafka, D-Stoughton.

Proponents say legalizing doctor prescribed suicide would give terminally ill patients peace of mind and control over the end of their lives. They claim its safeguards are adequate and argue that opponents' concerns amount to scare tactics.

Representatives from the Massachusetts Medical Society and hospice groups testified against the bill.

Vacca, who did not get the opportunity to testify, said she had hoped to point out that the new bill is far more dangerous than Question 2 was. The new bill eliminates the 15-day waiting period, allows the primary doctor to waive the need for a second opinion and does not properly safeguard Pro-Life hospitals.

Anne Fox, president of Massachusetts Citizens for Life, said, "This time 'round, you could go in and ask verbally and finish up killing yourself within the day. There's no waiting period. There's no second doctor."

Fox said many who support shortening the lives of terminally ill patients argue, "They're going to die anyway." Her response to that argument is, "Who isn't?"

In his comments at the hearing, Kelly called the physician-assisted suicide bill an "insult." The bill presents terminal diagnosis as an exact science, an idea rejected by Massachusetts voters last year.

"Voters realized that terminal diagnosis is guesswork. Everyone seems to know someone who was once terminal. Many people in the disability community have been assigned a terminal diagnosis, some of us our entire lives," he said.

Peter McNulty, associate director for policy and research at the Massachusetts Catholic Conference, stressed the importance of providing pain management to patients as their lives draw to a close. He submitted his testimony in writing as the hearing closed early.

"We are called to comfort the sick; in fact, modern medicine offers many alternatives to allow any patient, no matter the level of pain or suffering, to feel comfortable at the last moments of their lives. As a society, it is important that we support improved palliative care options instead of legalizing suicide," he said.

In a subsequent interview, McNulty said that the Catholic Church has an obligation to speak about the dignity of life from conception to natural death.

"As the bishops always say, 'All suicide is a tragedy,' and legalizing physician-assisted suicide is not in the best interest of the Commonwealth of Massachusetts. This is a flawed piece of legislation," he said.

Christine Williams is a correspondent for The Anchor, the newspaper of the Diocese of Fall River.