Public invited to free screening of film on life of sainthood candidate
---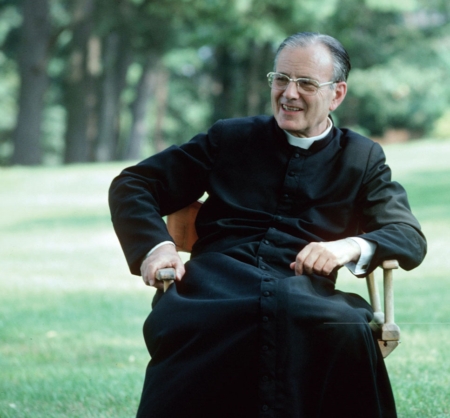 Candidate for sainthood Father Joseph Muzquiz, who began Opus Dei in the United States, is the subject of the "Everyday Holiness: The Life of Fr. Joseph Muzquiz" that will be screened at the Pastoral Center on Jan. 23. Pilot photo/courtesy Prelature of Opus Dei
Help us expand our reach! Please share this article
BRAINTREE -- The public is invited to learn more about a local candidate for sainthood at free screening of "Everyday Holiness: The Life of Fr. Joseph Muzquiz." The documentary will be presented Thursday, Jan. 23, at 7:30 p.m. at the archdiocese's Pastoral Center in Braintree.

Father David Cavanagh, postulator of the cause of sainthood for Father Muzquiz in the archdiocese, will introduce the film.

Father Muzquiz began Opus Dei in the United States and was one of the first three priests ordained for Opus Dei in 1944, after meeting St. Josemaria Escriva in 1934.

Since Father Muzquiz is buried in Boston, the investigation into his cause for sainthood falls to the Metropolitan Tribunal of the Archdiocese of Boston. The archdiocese opened his cause for canonization in 2011.

As postulator, Father Cavanagh guides the investigation.

He said a documentary on candidate for sainthood serves a purpose beyond exploring a life lived as an example of dedication to Christ.

"The documentary can show the mystery of what is going on in the ordinary, rather than just have it be data on a page. It can awaken people to be able to listen better to what the Holy Spirit is saying to them," Father Cavanagh said.

"The documentary puts this example before them, and also these types of things often lead to where more people begin to pray for the person's intercession," he said.

Father Cavanagh knew Father Muzquiz personally for seven years before his death at Arnold Hall Conference Center in Pembroke in 1983, and spoke with hundreds of people who knew or met Father Muzquiz throughout the United States and the world a part of his investigations.

"It was kind of like a mosaic. When you began to hear people talking about the way he treated them in the 1940s, the 1950s -- one person after another in all sorts of very ordinary situations -- but that they were struck by the same things that would strike me about his generosity and his forgetfulness of self," he said.

Father Dick Rieman, a priest of Opus Dei who appears in the documentary, knew and worked with Father Muzquiz in the 1950s.

In his lifetime Father Muzquiz obtained doctorates in engineering, history and canon law, but Father Rieman said he saw him as man with a gift for simplicity in his interactions with others.

"He just was very simple but very caring. That's the first thing you picked up." Father Rieman said.

Father Rieman noted the particular beauty of how Father Muzquiz celebrated the Mass.

"The most impressive thing for me was when he said Mass. Don't misunderstand. He didn't do anything extraordinary, but you could just sense the presence of God. You know, when he offered the Mass, he just was so very simple and child-like with our Lord," Father Rieman said.

He said in his simplicity and his caring, Father Muzquiz reflected his connection with Saint Josemaria Escriva.

Father Rieman also noted his strong work ethic.

"Nobody noticed it, but he worked just in a very quiet way. He just kept a schedule in his own way. He worked, and worked, and worked," Father Rieman said.

Emmy Award-winning John Paulson produced the 55-minute film at the behest of the prelature of Opus Dei.

"What do we think of as greatness in our society, in our world? I would like to think that 'Everyday Holiness: The Life of Fr. Joseph Muzquiz' gives us one very good example of how to live a life that is truly great," he said.

"His name wasn't on billboards. You didn't look him up in the sports column to see what his batting average was. This is a whole other measure of what is great," Paulson said.

In addition to Boston, the documentary will be screened in Chicago, Houston, New York, New Jersey and Washington, D.C. in January and February. For more details about the showing in Boston and other cities, visit www.josephmuzquiz.org.