Father Vincent Mellone retires as pastor in Woburn
---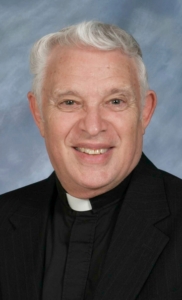 Father Vincent Mellone Pilot file photo
Help us expand our reach! Please share this article
Cardinal Seán P. O'Malley has announced that he has accepted the request of Father Vincent P. Mellone to retire as pastor of St. Barbara Parish in Woburn; the cardinal has also granted Father Mellone senior priest/retirement status effective Jan. 1, 2014.

Father Vincent Mellone was born in Cambridge on April 5, 1939 and raised in Boston's Allston section where his family worshiped at St. Anthony of Padua Church. He attended local schools and Boston English High School. Inspired by the parish priests assigned to his home parish in his youth, he entered the archdiocesan seminaries system, first at Cardinal O'Connell, Jamaica Plain then at St. John's, Brighton.

Richard Cardinal Cushing ordained him to the priesthood at Holy Cross Cathedral on Feb. 10, 1965 and assigned him as an assistant at St. Lucy Parish in Methuen. The Merrimack valley parish had a notable population of Italian Americans and Father Mellone, sharing the same ethnic heritage, also had a facility with the Italian language.

In June 1968, he was assigned as an associate at St. Patrick Parish, Watertown. As with Methuen, so also at Watertown, there was a large Italian American population in the parish and Father Mellone was an immediate hit with them. His great popularity was not restricted to his fellow Italian Americans, however. The whole parish took him into their hearts.

Gregarious, considerate, kind, and personable, he put people immediately at ease; he could tickle the piano ivories and had a wonderful voice whether it was the Sodality women, a group of parish workers, he could create a chorus instantly. He was greatly loved because of his attention to the sick and elderly; faithfully attending to Communion calls and visiting people in their homes.

Thirteen years later he was transferred to St. Francis of Assisi in Medford as an associate; while he missed Watertown and they missed him, he relished being with a great group of priests, especially an old mentor and rector of St. John's Seminary during Father Mellone's student years, Msgr. Matthew Stapleton.

Always respected among brother priests, he was in 1985 named assistant director in the Clergy Personnel Office where he served for four years. He never felt quite at home behind a desk, but was very effective in that position; during this time he was also a member of the Presbyteral Council and from 1984-1989 a member of the Board of Consultors of the archdiocese.

On Sept. 27, 1989 Cardinal Law returned him to his "preferred" ministry -- the parish -- as pastor of St. Barbara Parish in Woburn.

He has been the pastor of the parish for more than 23 years, and between 1995 and 2005, almost half of those years, he also served at vicar forane in the Stoneham vicariate of the North Region.