From Cardinal Seán's blog
---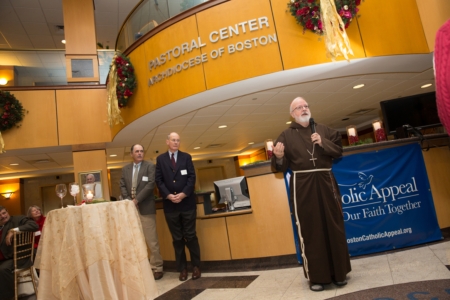 'In the afternoon, we had the Advent Gathering for the Cardinal's Leadership Circle with a Mass and a reception here at the Pastoral Center.' Pilot photo/CardinalSeansBlog.org
Help us expand our reach! Please share this article
This week, I was pleased to see that Time Magazine has chosen Pope Francis as their Person of the Year. However, I don't think Catholics really needed Time magazine or anyone else to confirm what we already know: that the Holy Father has captured the imagination of the world with his simplicity and emphasis on the message of love and compassion of Jesus Christ. So, we are happy when people recognize this, but not at all surprised. We hope that people will listen carefully to the message that he is trying to communicate, which is a message that is so sorely needed. In today's world, where there is so much pain, isolation and despair, the Holy Father, like John the Baptist, is pointing us to a path that leads to Christ, the Light of the World.

Confirmation in Norwell

Saturday (12/7), I celebrated confirmations at Saint Helen's in Norwell. Father Chris Hickey is taking care of that parish while they are waiting for the local collaborative to be officially established. It was a beautiful celebration during which we confirmed about 60 or so young people. It is always a joy to be able to celebrate confirmation and be able to talk to young people about the gifts of the spirit and the life of faith to which we are called in today's world.

Mass in Concord

On Sunday (12/8), I celebrated Mass for the Second Sunday of Advent at Holy Family in Concord. It was standing room only. Of course the pastor there, Father Austin Fleming, is quite a liturgist and this is evident in the congregational singing and the liturgy, which is executed in such great taste. They had a beautiful choir and, in fact, there was also a group of young people from a local Protestant church who sang for us as well. Sometimes when a church has an excellent choir, people just want to sit and listen, but here is a parish where they have a beautiful choir but at the same time they have the congregational singing that complements that. Following the Mass, there was a reception in their newly refurbished hall in the basement of the church.

Gathering with the Leadership Circle

In the afternoon, we had the Advent Gathering for the Cardinal's Leadership Circle with a Mass and a reception here at the Pastoral Center. The event provides us with a chance to gather with the members of the Leadership Circle and their families and express our gratitude for all they do in supporting the ministries of the archdiocese. At the gathering after the Mass we heard remarks from Bishop Deeley and one of the Appeal leaders, Sarah Madigan. Bishop Deeley spoke to us about the new evangelization and how our pastoral planning initiative is an essential part of our efforts. Sarah shared with us how she has spoken on behalf of the Appeal to fellow parishioners. She said that personal witness can make an important difference in moving fellow Catholics to support the ministries of the archdiocese.

FOCUS meeting

Wednesday (12/11), I was back in Boston and hosted a meeting here at the Pastoral Center on our ministries on college campuses and promoting vocations. It was a very fruitful meeting and we were all very encouraged by the positive reports and the work of FOCUS at three of our area universities. I always enjoy these brainstorming sessions at which we gather those who work in different ministries such as Vocations Office, Ethnic Ministries, the Office for New Evangelization of Youth and Young Adults, Campus Ministry and others. Of course here in the archdiocese, where we have over 250,000 students, the outreach to students is a very important ministry. We are very grateful to all those who are involved in this area, to the FOCUS program, and all the benefactors to support their work.