Seminarians witness to life
---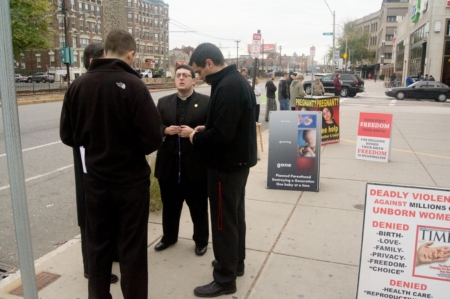 Seminarian Matthew Conley joins other seminarians in praying the rosary outside the Planned Parenthood clinic in Allston Nov. 16. Pilot photo/Christopher S. Pineo
Help us expand our reach! Please share this article
BOSTON -- Seminarians from St. John's Seminary kept a tradition of public witness for life as two groups held vigil, Nov. 16, at abortion provider locations in Greater Boston.

One group of about 30 seminarians held a vigil at Planned Parenthood in Allston, while another group of roughly the same number stood in prayer vigil at Women's Health Services in Brookline.

Seminarian Chris Bae, president of the pro-life committee at the seminary, said seminarians try to visit one of the facilities every other week and hold a large vigil in support of life each semester.

"The most urgent issue in this country is this abortion problem," said Bae.

Seminarians arrived by carpool and on foot before an hour of praying the rosary, concluded in group prayer and song.

"Without this right to life, all other human rights are meaningless. Without this right to life, you don't have right for freedom or personal happiness, because if you do not exist, those things do not exist at all," he said.

First year seminarian John Gancarz, studying for the Archdiocese of Hartford, said he felt that the public witness was important in the face of what goes on at the facility.

"This isn't just a regular building here. There is something very evil, very sad, going on here for many people, for the mothers, for the fathers, for of course the children and their families. I think that it is important that we don't forget what is happening in this world, and we lift our voices up in prayer," Gancarz said.

Director of Pastoral Ministry and Dean of Men, Father Edward M. Riley led the group of men at the Allston vigil.

He led the men in prayer and song before he gave a blessing to the men and those who he said come to the Planned Parenthood every week in support of life.

"God wants to bless his people, and there are those are here every single week praying and that is rain or shine, winter, summer," he said.

He said he saw it as important to "let them know that God is pleased with their faithfulness and their prayer, especially their prayer."

Catholics outside the Planned Parenthood said the presence of the seminarians and priests who accompanied them gave a feeling of support for those who stand outside the facilities, in some cases, on a daily basis.

"It's absolutely wonderful to have the seminarians here today. We noticed too in the passersby how much more reverent and quiet they are when they see the priests here," Ruth Schiavone, a parishioner of St. Catherine of Siena in Norwood, said.

"Personally I have always felt that the presence of a priest in clerical garb is very important to have on the sidewalk, because some girls are moved," she said.

Frank Porter of Billerica said he appreciated having the seminarians alongside him and other pro-life supporters, but wished more people from Massachusetts would come out.

"Where is everybody? There used to be 100 people or a couple of hundred people here back in the 80s. They are all gone. They have all disappeared," Porter said.

Others gathered at the facility that day said specific events turned people away from supporting Church teaching on the issue, or blamed recent remarks by the pope for a lack of support, but Porter pointed to a broader culprit.

"I think people just got apathetic, you know, political correctness. The religion of political correctness has taken over," he said.