East Boston faith leaders rally against casino
---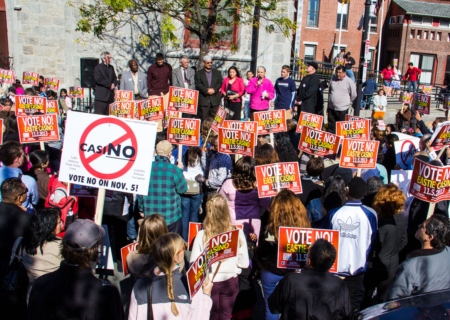 Interfaith clergy address the crowd gathered outside Most Holy Redeemer Parish in East Boston for a rally opposing a proposed casino in the neighborhood. Pilot photo/Christopher S. Pineo
Help us expand our reach! Please share this article
EAST BOSTON -- Hundreds of churchgoers flooded out of a Mass at Most Holy Redeemer Parish, Oct. 20, as they joined in an ecumenical Day of Solidarity opposing a move to bring a casino to their neighborhood.

The organizations No Eastie Casino and Friends of East Boston helped organize the rally to oppose the potential of an East Boston casino at Suffolk Downs race track on McClellan Highway.

According to the 2011 law that allows for the establishment of up to three resort-style casinos in the state, including one in the Boston area, local voters must approve a host community agreement before a casino developer could seek a license from the state gaming commission. Because the Suffolk Downs property includes land in both East Boston and Revere, both communities will have to approve separate agreements. The East Boston vote is currently scheduled for Nov. 5.

Father Thomas S. Domurat, pastor at Most Holy Redeemer, said too often when people eat a "fruit" that looks tempting, like the economic boons of resort-style casino gambling, the "fruit turns sour" -- the promises of prosperity turn out to be untrue.

"We know the collateral damage that will come from this casino, and we don't want it. We say, no," Father Domurat said.

"God can take something bad and turn it into something good, and today something good is happening. Because of this casino, for the first time that I can remember -- since I have been here seven years -- we are united in ecumenical, interfaith community," he said.

"We are united because we want the best for East Boston," Father Domurat said.

At the rally outside the church, pastors from various Christian denominations and a local Imam addressed the dangers of casino gambling for the community to a crowd bristling with "Vote No!" signs.

"The casino is not good for families. It is not good for marriage. It is not good for the Gospel," pastor of Church at the Well, Rev. Kevin Scott said.

Religious leaders emphasized the danger of putting faith in "false prophets" like the gambling industry, and encouraged the crowd to continue their fight with assurances that a neighborhood and its residents could potentially win the day against corporate interests at the Nov. 5 vote.

"We have a Goliath who has appeared and says, 'East Boston, I'm coming to take over your town. There is nothing you can do to stop me.' Except you may remember there was a small boy with a slingshot and half a dozen stones, and that was the end of Goliath," Rev. Don Nanstad, pastor at Our Saviour's Lutheran Church on Paris Street, said.

John F. Ribeiro of Winthrop, chairman of the Committee to Repeal the Casino Deal, told The Pilot that the day brought an opportunity for families and people of various faiths to oppose something that could hurt the local economy.

"We are still trying to climb out of the housing crisis where bad loans were given to people, in mortgages, and what we are inviting into our community now is a business that is going to be able to give people loans after feeding them free drinks. It's just a bad business model that directly impacts families and takes money away from families," he said.

Brian Gannon, co-chair of No Eastie Casino, said he decided not only to advocate against the casino, but also to run for Boston City Council to oppose what he called a lack of transparency made clear by the most recent developments in the effort to bring a casino to East Boston.

Suffolk Downs' chief operating officer Chip Tuttle announced Oct. 18 that the race track requested that Caesars Entertainment step away from the $1 billion project, after the Massachusetts Gaming Commission raised concerns about Caesars related to background checks for a state gaming license.

"This process hasn't really worked out right. It hasn't been very transparent. The city council approved this vote going forward, knowing these background checks weren't completed, and that's how we ended up where we're at," Gannon said.

Over the weekend, after the deal with Caesars crumbled, Mayor Thomas M. Menino proposed a delay in the vote.

"My biggest fear with this issue is the fact that they know, from the recent polls from the Boston Herald, that they don't really have the vote. Meanwhile, I think that this is in their best interest to change the date, change partners, so that they have more time to groom the neighborhood," Gannon said.

Subsequently, Secretary of State William F. Galvin told local media that changing the date of the vote will not happen.

"I think we have the votes (to defeat the casino proposal) right now," Gannon said.