Obituary: Father Thomas Naughton, pastor and military chaplain
---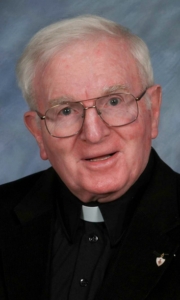 Father Thomas J. Naughton Pilot file photo
Help us expand our reach! Please share this article
A long time US Army chaplain and pastor in two parishes and administrator in two others, Father Thomas J. Naughton died at Regina Cleri Residence, Boston on Oct. 6, 2013.

Born in Milton on Jan. 30, 1935 he was one of three children of the late Thomas and Julia (Carroll) Naughton. He was predeceased by his brother, Thomas and is survived by his sister, Carol of Milton. He attended Milton Public Schools and was a 1952 graduate of the town's high school; he attended Boston College and did seminary preparatory work at St. Philip Neri School in Boston. He completed seminary formation at St. John's, Brighton and Auxiliary Bishop Jeremiah Minihan ordained him to the priesthood at Holy Name Church, West Roxbury on Feb. 2, 1961.

Following ordination he was named assistant at St. John the Evangelist Parish, Cambridge and in 1968, assistant at St. Kevin, Dorchester. In June 1970 he was granted permission to enter the Army Chaplain Corps and served for the next 21 years in posts in Korea; Vietnam; Fort Wainwright, Alaska; Fort Belvoir, Va.; Walter Reed Hospital, Washington, D.C.; and three separate postings at Fort Bragg, N. Car. While at Bragg, he obtained an M. Ed at North Carolina State University.

Retiring as a Lt. Colonel in 1991 he returned to the archdiocese and served until 1994 as chaplain at Beth Israel Hospital, Boston. In 1994 he was named pastor of Immaculate Conception, Winchester; in 1998, a member of the Emergency Response Team. He resumed duties as a pastor serving at St. Martha and Mary, Lakeville (1999-2004). Between 2004 and 2006 he served as Chaplain at Tufts New England Medical Center, Boston and as administrator of both St. James Parish in Boston's Chinatown and of Holy Trinity (German) Parish in the Hub's South End.

He was granted senior priest retirement status on Oct. 30, 2007. In less than a year he was back as administrator briefly at St. Mary of the Angels, Roxbury and then at his hometown St. Elizabeth Parish, Milton.

On March 16, 2009 he entered Regina Cleri Residence, Boston, but a few months later retired to the rectory at his home parish, St. Mary of the Hills, Milton. He returned to Regina Cleri on June 1, 2011 and remained there until his death.

Archdiocesan Central Regional Bishop Robert Hennessey was the principal celebrant of Father Naughton's Funeral Mass at St. Mary of the Hills, Milton on Oct. 12. Homilist was classmate and retired Navy Chaplain, Father Edwin Condon of Hingham. Joining them as concelebrants were the parish's pastor, Father Arthur Wright; classmates, Father John "Jerry" Shea; and Father James Lanergan.

Following the Funeral Mass Father Naughton was buried in Milton Cemetery, Milton.