Obituary: Father Edward McLaughlin, former Hanson pastor
---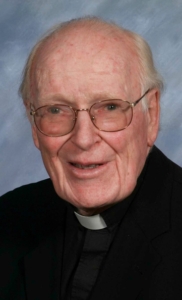 Father Edward J. McLaughlin Pilot file photo
Help us expand our reach! Please share this article
South Regional Bishop John Dooher was scheduled to be the principal celebrant of the Funeral Mass for Father Edward J. McLaughlin one time pastor of St. Joseph the Worker parish in Hanson. Father McLaughlin's Funeral Mass was scheduled for Oct. 17 at St. Thomas Aquinas Church, Bridgewater.

A Medford native he grew up in the Medford Hillsides section of the city where he had been born Aug. 9, 1927. His parents Bernard and Cecilia (Doherty) McLaughlin and his five older siblings Bernard, Joseph, Rita, Norton, and Mary McGrath predeceased him.

Following his graduation from Medford High School in 1945, he entered archdiocesan seminaries and on Jan. 10, 1952 Archbishop Richard Cushing ordained him to the priesthood.

All of his assignments were to archdiocesan parishes: he was assistant at St. Bridget, Framingham (1952-1960); St. Elizabeth of Hungary, Acton (1960-1963); St. Mary of the Angels, Roxbury (1963-1965) and St. Mary, Waltham (1965-1976); from 1976 to 1977, he was an associate at Our Lady of Lourdes, Carver and from 1977 to 1982, associate at St. Margaret, Brockton.

Humberto Cardinal Medeiros named him pastor of St. Joseph the Worker Parish in Hanson where he served from 1982 to 1995. After two terms at Hanson he "returned to the ranks" as parochial vicar at St. Thomas Aquinas, Bridgewater and remained in residence there as Senior Priests from 2002 until he retired to a private residence.

"Eddie" was more than a bit of a character. He delighted in shocking people. At Waltham, he was noted for his motorcycle and his budding ponytail. One priest tells the story about his grandfather's hospitalization. Eddie would regularly, faithfully and dutifully visits hospitals, nursing facilities and homes. He was extraordinarily kind and attentive to the sick and aging. The family was ready for the outspoken Irishman to hear about how a "Hell's Angel'' member came to visit him claiming to be a priest!" Instead, there was nothing but praise from the old man. When told of this later, Eddie simply smiled and asked how he was. You could tell he delighted in the success of the ruse.

Father Jim O'Leary, the homilist at Eddie's Funeral Mass and pastor of St. Camillus in Arlington, became friends with Eddie when Jim was at his first assignment in Waltham's Our Lady Comforter of the Afflicted Parish. Eddie was at the mother parish: St. Mary. They played tennis regularly and travelled when Eddie's busy schedule permitted.

Eddie was a bit of a "contrarian" especially when it came to local sports teams. He readily sported the colors of the Fighting Irish of Notre Dame and especially liked to taunt the more numerous alumni of Boston College; likewise with the pro teams. He seemed elated when the locals lost; often calling those who had no idea or interest to gloat -- over the loss not the victory.

Over the past few years, he had been an almost daily presence at the archdiocesan Pastoral Center in Braintree usually arriving well in advance to concelebrate Mass at Noontime and then sitting in the lobby to "receive" his fans.

Father McLaughlin was well liked by priests and especially the people in the parishes where he served. During his last years and until a few months ago, he resided with longtime friends John and Anne Stanley in Braintree.

Among those joining Bishop Dooher at the Funeral Mass were Father John M. Hannon, pastor at Hanson and Father William Devine, pastor of St. Thomas Aquinas Parish. Following the Funeral Mass Father McLaughlin was buried in St. Thomas Aquinas Cemetery, Bridgewater.