Obituary: Former Wakefield pastor, Father Humphrey Murphy
---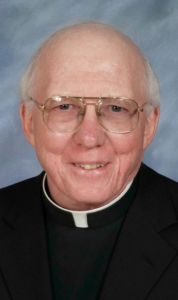 Father Joseph Humphrey Murphy Pilot file photo
Help us expand our reach! Please share this article
Father Joseph Humphrey Murphy, known by most Boston priests simply as Humphrey, died after a period of declining health at Life Care Center in Acton on Aug. 21.

A Waltham native he was the only son of the three children of the late Joseph and Agnes (Welsh) Murphy. After attending local schools in Waltham he entered the archdiocesan seminaries beginning at Cardinal O'Connell at Jamaica Plain and subsequently moved cross city to Brighton completing his philosophy and theology studies at St. John Seminary.

Richard Cardinal Cushing ordained him to the priesthood at Holy Cross Cathedral on Feb. 2, 1961 with twenty of his classmates; two other ceremonies were held at other archdiocesan parishes at which 16 and six other members of the class of 1961 were ordained. He was granted two graduate degrees: an M. Ed. from Boston State College, and a Ph. D in Divinity from Boston University.

Over the next 12 years, Father Murphy served as an assistant or associate at four parishes: St. Mary, Charlestown; St. Mary, Wrentham; St. Monica, South Boston and Our Lady of Sorrows, Sharon.

In early 1973 he became part of what was a new means of assigning priests to parishes -- team ministry. He served as a member of a three-priest team ministry at St. Joseph, Somerville. Another member of that team Father Henry "Skip" Jennings died just about a month ago at Regina Cleri. After 15 years at Somerville, where he and the team saw a dramatic change in the population, Father Murphy was appointed first as administrator, on Nov. 8, 1988 and then on July 25, 1989 as pastor of St. Florence Parish in Wakefield.

A hard working and dedicated priest was saluted by one of his brother priests with the simple "he was a good guy", usually meaning he worked hard in his assignments, served his people and was comfortable with priests.

He resigned as pastor in Wakefield on May 31, 2009 and lived initially at St. Patrick Manor in Framingham.

Father Murphy's Funeral Mass was celebrated at his last parish, St. Florence on Aug. 24. Father John Mulloy was the homilist. Following the Mass Father Murphy was buried in Calvary Cemetery, Waltham. His sister Anne of Waltham survives him.