From Cardinal Seán's blog
---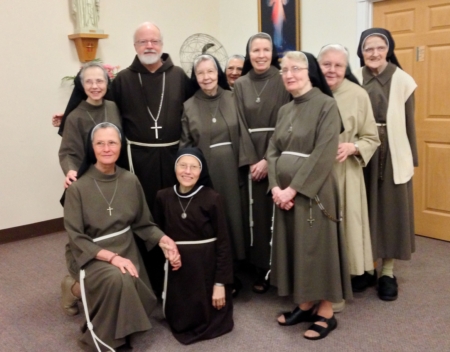 'The Feast of St. Clare is Aug. 11 and on Saturday, the eve of the feast, we joined the Poor Clares in Andover for their celebration.' Pilot photo/CardinalSeansBlog.org
Help us expand our reach! Please share this article
Friday (8/9) I had a visit from Bishop Dennis Agbenyadzi, who was accompanied by Father Chris Hickey. Bishop Agbenyadzi, who is originally from Ghana, had worked for a long time in Father Hickey's parish. We are very blessed to have a number of SMA (Society of African Missions) religious Fathers who help out in our parishes, particularly during their summer vacations from their graduate studies in Rome. Bishop Agbenyadzi is one of those student priests who was here for a time and now he has been made a bishop in the Central African Republic. In fact, Father Hickey went to his episcopal ordination because when he used to help out in the parish he was always inviting Father Hickey to come to Africa and Father Hickey would say "when you are ordained a Bishop I will go." Well, he became a bishop!

Poor Clares celebration

The Feast of St. Clare is Aug. 11 and on Saturday (8/10), the Eve of the feast, we joined the Poor Clares in Andover for their celebration. I had dinner with the sisters and then we had the transitus ceremony, which is the ceremony commemorating the death of St. Clare, followed by a Mass. ...I told them about my own experience as a young child going to the Poor Clares with my grandmother for the feast of the Portiuncula and how in our town, even though the sisters are cloistered and so never leave the convent, they know everything that is going on in town because everyone comes to them seeking their prayers. So, I reminded them that the presence of their community is such a blessing for us, particularly for their witness that God must be a priority in our lives and that prayer is the path that connects us with God.

Blessing at Glastonbury Abbey

Sunday (8/11), I went to Glastonbury Abbey for the blessing of the new abbot there, Abbot Thomas O'Connor, who was elected June 29. There were many lay people and third order members with us. The blessing took place during an outdoor Mass on Sunday, with about 400 people in attendance. Among the guests were a number of visiting abbots, including the abbess of the Trappistine Sisters in Wrentham, Mother Maureen... The occasion gave me the opportunity once again to speak about the importance of this monastic community in our midst, which serves as a spiritual oasis where people can go to find the time and space to grow in their interior life.

Visit with Jesuit community

Then, that evening (8/13), I went to visit the Jesuit community at Holy Cross College. They have about 25 men living there. A number of the young Jesuits were with us at World Youth Day in Rio and were very helpful at the Rio Vivo Center that the Knights of Columbus sponsored for young people from the English-speaking countries. It was also a chance to meet the new president of Holy Cross, Father Philip Boroughs who was with us, along with Father Paul Harman and Father John Savard. During the evening we had Vespers and then I gave a short talk on the Holy Father followed by a time of questions and answers. We concluded our day with a dinner, at which they presented me with this T-shirt which says we love our Jesuit pope!