Priests gather for annual Vianney Cookout
---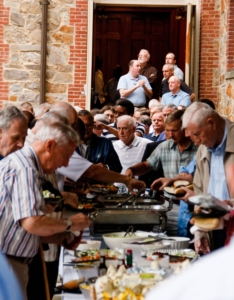 Priests gather at the annual St. John Vianney Cookout held Aug. 1 at St. John's Seminary. Held each year around the time of the Feast of St. John Vianney, the patron saint of priests, the evening features a talk on priestly ministry, vespers and a barbeque on the grounds of the seminary. Pilot photo/Christopher S. Pineo
Help us expand our reach! Please share this article
BRIGHTON -- Cardinal Seán P. O'Malley and seminary rector Msgr. James P. Moroney welcomed priests and seminarians of the archdiocese to St. John's Seminary for the annual St. John Vianney Cookout, Aug. 1.

Held each year since 2005 around the time of the Aug. 4 Feast of St. John Vianney, the patron saint of priests, the cookout is intended to provide a relaxing time of priestly fraternity. The gathering traditionally includes a talk on some aspect of priestly ministry, followed by a vespers service and concludes with a barbeque held on the seminary grounds.

This year, the afternoon began with a presentation by Msgr. Dennis F. Sheehan and Father John F. Mulloy on the role of parochial vicars under the archdiocese's new pastoral plan. In their talk, the pair drew on more than 90 years of combined experience serving the Archdiocese of Boston.

"I think it was a very proper exercise to impart the importance of priestly ministry and priestly ministry outside of the office of pastor. They did a fantastic job as we all knew they would," the cardinal said at vespers after the discussion.

During the vespers service, the cardinal reflected on a homily given by Pope Francis the week before at a Mass in Rio de Janeiro, Brazil for bishops, priests and seminarians at World Youth Day.

The pope had told the group that they were three "calls" in their vocation: called by God, called to proclaim the Gospel, and called to promote a "culture of encounter" -- bringing the love of Christ directly to people.

"Here in Boston we are trying to do things in this way, and to create this culture of encounter in the new evangelization in our parishes, to make our parishes into disciple-making, evangelizing communities. It requires a lot of prayer, a lot of hard work, and a lot of team work," Cardinal O'Malley told the Boston priests.

During their talks, Msgr. Sheehan and Father Mulloy each spoke about his experiences serving as parochial vicars even with a wealth of experience and long service in the priesthood, before opening up their presentation for a discussion with the priests in attendance.

"On the way in, the cardinal asked if I was going to offer words of wisdom. Now there is the wisdom of the ages, remember that, but there is also no fool like an old fool. So, you decide at the end of this which part you have heard," Msgr. Sheehan joked during the presentation.

Msgr. Sheehan spoke in part about his experience in the first phase of the new pastoral plan Disciples in Mission -- in which he serves with a younger pastor -- as part of a pastoral team at collaborative parishes.

He said he would have titled his talk "Imagining and Reimagining Myself as a Priest."

"Priests are being called in a changing Church situation to reimagine themselves constantly. At times a new ministry, a call from the archdiocese, from a bishop, from the Church, can be the catalyst," Msgr. Sheehan said.

Having served as both a professor and rector at Blessed John XXIII Seminary, Msgr. Sheehan described experiences in the priesthood that emphasized the depth of ministry opportunities well beyond serving as a pastor.

"As I look back, my personal journey through 50 years of a priestly life in ministry has called for frequent and sometimes scary reimagining. I imagined something at the outset to succeed in some way, but some of it --however, as you know -- I got through it alive, and that was quite enough," he said.

Father Mulloy spoke about his experiences over the years as well, but from a different standpoint from Msgr. Sheehan

"He is a scholar, and I am whatever the opposite of a scholar is," Father Mulloy said, which drew a laugh from the gathered priests.

"What unites the two of us though, and what unites all of us here, is the precious gift of priesthood. That is what we are here to discuss with you. With you, I say because we're both anxious to hear your thoughts, your ideas, and your experiences," he said.

Father Mulloy, who served as interim regional episcopal vicar of the North Region of the archdiocese, said they hoped to explore with the audience the joy of being an older parochial vicar. He said the richness in his adult life and service came from being a priest, not from the various offices he held in his years after ordination.

"For me, that stuff -- as important as it is -- never gives you the same joy of just ministering to people, praying for people, preaching God's love to people," he said.

Franciscan of the Primitive Observance Father Andrew Beauregard said he enjoyed the opportunity to interact with and hear from experienced priests on the subject.

"They had the role of being an assistant, of being a parochial vicar, and looking at how the new dynamic and the priest's life and the parish life is with someone who is older, and more experienced, and is well grounded in his priesthood. It can be more concentrated on serving the people," Father Beauregard said.