Cardinal says faith not about 'warm fuzzies' at WYD catechesis
---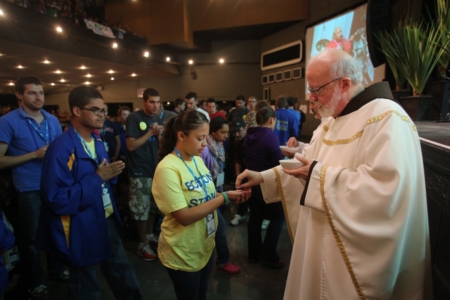 Cardinal Seán P. O'Malley administers the Eucharist to a pilgrim at one of his catechesis presentations during World Youth Day in Rio de Janeiro Brazil from July 23 to July 28. Photo photo/George Martell, Pilot Media Group
Help us expand our reach! Please share this article
RIO DE JANEIRO, BRAZIL -- For three days during World Youth Day, July 23-28, in Rio de Janeiro, Brazil Cardinal Seán P. O'Malley delivered Church teaching directly to youth and young adults traveling from Boston and from all over the world.

As part of the schedule of events at World Youth Day, pilgrims at various locations had the opportunity to learn face-to-face, interacting with bishops, as each venue hosted a bishop for a "catechesis" or presentation -- a talk with a question and answer session followed by a Mass.

According to Cardinal O'Malley's blog he gave three such presentations, between July 24 and July 26, each day at a different venue following the same format for three days.

At his third catechesis on Friday, the cardinal spoke at a center established by the Knights of Columbus, the Bishops Conference, and the Jesuit Conference for pilgrims coming in from Canada and the United States -- one of 273 venues called "Catechesis Headquarters."

The cardinal transitioned his message slightly for each part of the catechesis, moving from the larger external life of a Catholic to the internal life of a calling toward Jesus Christ.

Thanks to members of the Archdiocese of Boston's media apostolate The Pilot interviewed youth and young people traveling from Boston who had the opportunity to hear the cardinal's message.

"I thought his sincere concern for our future was really special," said Caitriana Tilden, a senior at Salve Regina College who traveled to Brazil.

The telephone disconnected during her interview, so she gave her remarks via Facebook messenger.

"I just think that we were really lucky to get to be there for that. Cardinal Seán brings faith into such realistic terms that help me personally feel like I can make religion a part of my daily life," she said.

Speaking with the young people about topics including avoiding the temptation to participate in casual liaisons, avoiding cohabitation, proclaiming the message of Jesus Christ, and engaging the world, the cardinal presented a robust view of what it means to live as young laypersons in the Catholic Church.

In his talk, he addressed issues related to how young Catholics can engage the world in living out their faith.

The cardinal framed much of his message around the new evangelization, and said evangelizing people in the West including the United States, England and Canada might actually be harder than evangelizing those hearing the Gospel for the first time.

"The attitude in our countries so often is, 'Well, been there done that. Not interested.' That group has been vaccinated against the Gospel and it is much more difficult to evangelize there," he said.

Cardinal O'Malley referenced a teaching by Pope Francis calling Catholics to be missionaries in their own homes, schools and countries. He also referenced a teaching by Pope Paul VI, in "Evangelii Nuntiandi," where the pope called on every evangelized person and even the Church to be an evangelizer.

"Wow. If that's the way we define an evangelized person, we have to ask ourselves: how many people are evangelized, if to be evangelized means you are going to be an evangelizer?" he asked.

He also encouraged the pilgrims to reach out to those close to them -- their peers.

"All of you know people who are drifting away from God, from meaning in life, away from eternal salvation, people whose lives have become complicated by cynicism, by addictions to sex, drugs, thrills. Yes, the world needs you to be missionaries, to show the people of today that Jesus Christ is the answer to the greatest problems of life," the cardinal said.

He referred to himself and people his age as "old fogies, who don't share or understand their youth culture" in the context of outreach to young people.

He also called upon the pilgrims to be part of a community that speaks the language of discipleship, avoiding the trope of identifying oneself as spiritual-but-not-religious.

"Jesus didn't come and die on the cross so that we could have the warm fuzzies. It's not about, you know, a little poetry, a little ritual, a little feeling. No. It means being part of a community of faith, where we have responsibilities to God and to one-another," he said. "Discipleship is not a solo flight."

In a video available on Canada's Salt and Light Catholic television station, and on the cardinal's blog, young people can be heard cheering when the cardinal mentions teachings on subjects like the vocation of marriage and the importance of adoption.

"I thought the cardinal had a really important message about how important the sacrament of marriage is to our faith. He said he was concerned about the trending cohabitation which is such a relevant issue for today's youth," Tilden said.

When the cardinal took questions after his talk, pilgrims from all over the world, as well as Boston, posed questions.

"He actually made a joke that the other countries weren't going to like us, because we kept getting in line to ask questions and talk to him," said Tim Habdeb, 20, a pilgrim from St. Mary's Parish in Hanover who traveled to Brazil.

During the question and answer session, pilgrims asked about issues including expressing their Catholic faith person-to-person in their social circles, in their families, in their careers, in their marriages and in the increasingly secularized if not atheistic world.

"Well, I think we have to bloom where we're planted. All of us have relationships with people we work with, people from our families, people in school, who we know are not coming to Mass, not baptizing their children. Sometimes it's as simple as inviting someone to come with us when we're coming to church," the cardinal answered a pilgrim from Michigan.

"The very centerpiece of God's plan is the family, which should be the sanctuary of life. Obviously we must encourage people to be generous. Today, there's a lot of economic pressures on people, there's a lot of cultural pressure not to have children, to have few children, so it takes a lot of courage and a lot of faith to step out," the cardinal told a Canadian pilgrim, who identified himself as a native of Iraq.

The cardinal brought the message to an internal level as he spoke about developing closeness with Jesus Christ during his homily, when he celebrated Mass for the gathered.

"Jesus is always inviting us, and sometimes we are afraid to say, 'Yes,'" he said.

"If you say yes to the invitation, you will have to struggle, there will be moments of suffering, there will be great obstacles, but you will find happiness -- the joy of being Christ's disciple, of being part of his mission, part of his team. He gives us his friendship," the cardinal said.

Pilgrims expressed gratitude for the opportunity to learn from the cardinal in a personal way.

"The catechesis was especially good for us because Cardinal Seán is the Archbishop of Boston, so it felt special. We have heard his name so many times, but to be with him in Brazil, so far away from home, surrounded by people from around the world, that was truly just an experience," said Jack Hayes, 16, a junior at Xaverian Brothers High School in Westwood.