The CatholicTV Network to air special coverage during Fortnight for Freedom
---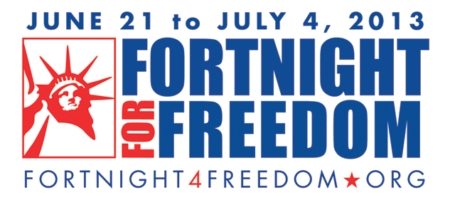 Help us expand our reach! Please share this article
WATERTOWN -- The U.S. bishops have called for a Fortnight for Freedom, a two-week period of prayer and action to address many current challenges to religious liberty, including the Aug. 1 deadline for religious organizations to comply with the HHS mandate, Supreme Court rulings that could attempt to redefine marriage in June, and religious liberty concerns in areas such as immigration and humanitarian services.

The CatholicTV Network will participate in the Fortnight for Freedom with special programming from June 21 to July 4, to rally support for the protection of religious freedom in the United States.

Fortnight for Freedom coverage will begin on the CatholicTV Network with the Opening Mass of the Fortnight for Freedom celebrated by Archbishop William Lori, the chair the U.S. Bishops' Ad Hoc Committee for Religious Liberty, at the Basilica of the National Shrine of the Assumption of the Blessed Virgin Mary in Baltimore.

The Mass will air live at 7 p.m. on CatholicTV and www.CatholicTV.com. Immediately following the Mass, an exclusive interview will air with Archbishop Lori on ClearVoice, the CatholicTV Network's news magazine show.

Throughout the two week period called for by the U.S. Conference of Catholic Bishops, Father Robert Reed, president of CatholicTV will offer a daily reflection on the theme of religious freedom in a series of Blinks. Father Reed also has prayed a special version of the Holy Rosary: "A Rosary for Our Nation." Visit www.CatholicTV.com/Freedom for on-demand viewing of these reflections and The Rosary.

Coverage will be available on CatholicTV and CatholicTV.com. Learn more about Fortnight for Freedom at www.Fortnight4Freedom.org.