Obituary: Father Brian Smith, 45, ministered in Brockton, Chelmsford and Foxborough
---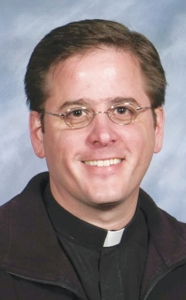 Father Brian P. Smith
Help us expand our reach! Please share this article
Father Brian P. Smith passed away June 3 at Brigham and Women's Hospital in Boston following a battle with colon cancer. He was 45 years old, and had just celebrated his 10th anniversary of ordination.

Born Oct. 5, 1967 in Boston, he was one of four sons of Donald M. and Virginia M. (Bailey) Smith of Weymouth.

He was a son of Sacred Heart Parish in Weymouth and attended Weymouth North High School, graduating in 1985. He earned a bachelor's degree in English at Bridgewater State College in 1992 and went on to teach music at St. Coletta's Day School in Braintree. He also worked as a reporter for The Pilot from October 2000 to June 2001.

Father Smith attended St. John's Seminary and was ordained to the priesthood by then-Apostolic Administrator Bishop Richard G. Lennon at the Cathedral of the Holy Cross on May 24, 2003.

His first assignment following ordination was as parochial vicar at St. Edward Parish in Brockton and remained as parochial vicar at the new St. Edith Stein Parish formed later that year from the merger of St. Edward's and St. Nicholas Parish in Abington.

He continued to serve at St. Edith Stein until 2011, being named a member of the team ministry in January 2008 and then administrator in August 2010.

In January 2011, he received a short-term assignment as parochial vicar at St. Mary Parish in Chelmsford. Then, in October 2011, he received what would be his last priestly assignment, being named parochial vicar at St. Mary Parish in Foxborough.

Father Smith is remembered for his love of music, playing guitar, reading, movies, and especially spending time with family and friends.

He is survived by his parents; his brothers, Michael M. and his wife Carolyn Durso-Smith of Guilford, Conn.; Kevin J. and Stephen F. Smith of Weymouth; his nieces Molly and Maggie, and nephew, Christopher; his uncle, James F. Bailey of Scituate; aunts, Grace Ann Horgan of Foxborough, and Ann Toland of Braintree, as well as several cousins.

Father Smith will lie in state at St. Edith Stein Parish, Brockton on June 5 from 3 p.m. to 7 p.m. and at St. Mary Parish, Foxborough on June 6 from 3 p.m. to 7 p.m., followed by a parish Mass at 7 p.m.

His funeral Mass will be held at his home parish, Sacred Heart Church in Weymouth, on June 7 at 12:30 p.m. Cardinal Seán P. O'Malley will be the principal celebrant and Father Sean Connor will serve as the homilist. A private family interment will follow at The Village Cemetery in Weymouth.