Local school featured on statewide Catholic education poster
---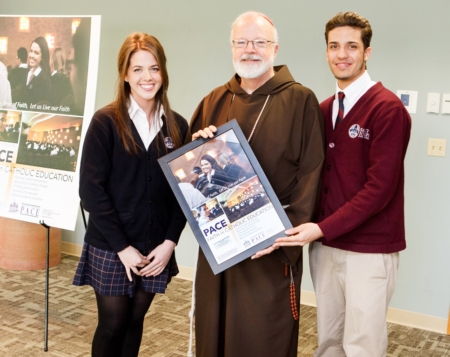 Cardinal Seán P. O'Malley poses with students at St. Joseph's Preparatory High School in Brighton, senior Jessica Davidson and junior Alan Checo, who are featured in the Parents Alliance for Catholic Education 2013 awareness campaign poster. Pilot photo/Gregory L. Tracy
Help us expand our reach! Please share this article
BRAINTREE -- The Parents Alliance for Catholic Education (PACE) teamed with the Catholic Schools Office of the Archdiocese of Boston to produce the 2013 edition of a poster to promote "FAITH" in Catholic schools.

Fostering student achievement, advocating for Catholic schools, initiating political action, targeting vital resources, and honoring academic excellence round out the acronym in the poster unveiled by Cardinal Seán P. O'Malley May 20 at the Pastoral Center.

PACE was established in 1994 by the bishops of the four dioceses of Massachusetts to educate the Catholic school community about public policy matters that impact their families, teachers, and schools.

Having featured students on posters promoting Catholic schools in recent years, PACE executive director Frederick M. Kalisz, Jr. said the organization chose students from St. Joseph Preparatory High School in Boston on the recommendation of superintendent of Catholic schools for the Archdiocese of Boston Mary Grassa O'Neill.

St. Joseph Preparatory High School was formed this year from the merger of the former Mount Saint Joseph Academy in Brighton and former Trinity High School in Newton.

The poster features two St. Joseph's students, senior Jessica Davidson and junior Alan Checo at a gathering in Holy Family Chapel of the Congregation of the Sisters of St. Joseph in Brighton.

"I thought it was a nice setting to have it in the chapel, it is a beautiful chapel," senior Jessica Davidson said.

The cardinal presented each student with a framed copy of the poster, and posed for photos with each of the pair.

"My mom said, when she found out that I was going to meet the cardinal, 'It's not everybody that gets to meet the cardinal.' So, it was a pleasure and an honor to meet the cardinal today," junior Alan Checo said.