Obituary: West Roxbury pastor Father Dunn dies at 69
---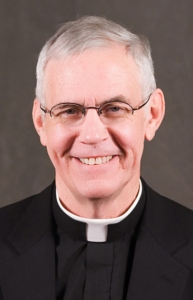 Father William S. Dunn Pilot file photo
Help us expand our reach! Please share this article
Father William S. Dunn, pastor of St. John Chrysostom Parish in West Roxbury, passed away May 20 after a short illness. He was 69 years old.

Father Dunn was born April 16, 1944, the fifth of eight children of Robert and Isabel (Sutton) Dunn of Deadwood, S.D. He graduated from Lead (S.D.) High School before going on to Creighton University in Omaha, Neb., where he earned both his bachelor's and medical degrees. He completed his medical residency at St. Vincent's Hospital, University of Massachusetts, in Worcester.

Father Dunn practiced and taught medicine for 10 years in St. Louis, before moving to Washington, D.C., in 1986. He worked and taught at George Washington University Medical School. He earned a master's degree in public health from GWU.

In 2002, he began a discernment process for entrance to the seminary, something he had considered in his youth before pursuing medicine. He studied for the priesthood at Blessed John XXIII National Seminary in Weston and was ordained to the priesthood by Cardinal Seán P. O'Malley on May 27, 2006 at the Cathedral of Holy Cross.

His first assignment was at St. Mary Parish in Chelmsford, the fourth largest parish in the Archdiocese in Boston. He has been pastor at St. John Chrysostom Parish since Dec. 13, 2010.

He is remembered by family and friends for his kindness, dignified demeanor and dry sense of humor. He loved travel, and just last month joined about 30 of his brother priests on a pilgrimage to Holy Land led by Cardinal O'Malley.

Father Dunn is survived by his brothers, Dr. Michael J. Dunn of Omaha, Neb., and Dennis E. Dunn of Mount Pleasant, S.C.; his sisters, Pat Knutson of Spokane, Wash.; Kathleen Salazar of Rapid City, S.D.; Mary Jane Brune of Overland Park, Kans., and Rosemarie Pearman of Spearfish, S.D.; Aunt Mary Parsley of Brookings, S.D., and uncles Michael Sutton of Minneapolis and Philip Sutton of Grandview, Mo. and numerous nephews and nieces.

He was preceded in death by his parents and his brother, Terrence John Dunn.

Father Dunn's funeral Mass was to be celebrated by Cardinal O'Malley at St. John Chrysostom Church in West Roxbury May 23 followed by burial at St. Joseph Cemetery, also in West Roxbury. Designated concelebrants of the funeral Mass included Father Kevin M. Sepe, Father Brian M. Clary, Father Stephen S. Donohoe, Father Arthur T. MacKay, Father Thomas S. Rafferty, Father Robert J. Cullen, Father Ixon Chateau, Father Darin V. Colarusso and Father William C. Palladino.