Sloanes honored at Catholic Charities Spring Celebration
---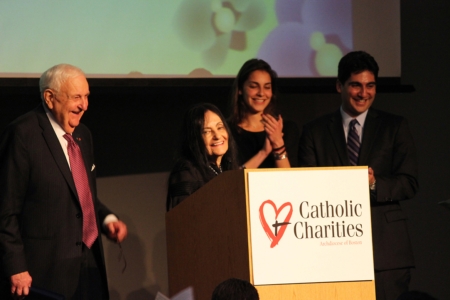 Marshall Sloane of Century Bank smiles at his wife, Barbara, as she speaks about receiving the Justice and Compassion Award as their grandchildren, Rachel and Joshua, look on during Catholic Charities Annual Spring Celebration at the John F. Kennedy Library and Museum in Boston May 15, 2013. Pilot photo/Rebecca Comella, Catholic Charities of Boston
Help us expand our reach! Please share this article
DORCHESTER -- Cardinal Seán P. O'Malley joined Catholic Charities of the Archdiocese of Boston, May 15, at the John F. Kennedy Presidential Library and Museum for their annual Spring Celebration. The benefit raised more than $1.3 million to fund the agency's programs and services that support 200,000 people in need throughout Eastern Massachusetts.

Catholic Charities honored Barbara and Marshall Sloane of Century Bank with the "Justice and Compassion Award" for their support of social service organizations, nonprofit healthcare providers, and educational foundations throughout the community.

"Tonight on behalf of all of my colleagues at Catholic Charities and the clients we are so privileged to serve, as we celebrate through the power of family, resilience, character and community, I thank each of you, whether you are here with us this evening for the first time, or like the Sloane family, constant supporters. We simply could not do all that we do without you," said Deborah Kincade Rambo, president of Catholic Charities.

After blessings from Rabbi Jonah Dov Pesner and Father J. Bryan Hehir, the event organizers presented an evening-long narrative detailing the work of Catholic Charities, the stories of the people it helps, and the contributions to that work made by the Sloanes and their family.

Marshall Sloane, the founder of Century Bank, was raised in the Jewish faith in Somerville. At age 35, the father of three, husband, and bank owner was diagnosed with cancer. During his illness, he became friends with a Catholic nun. Later, when his cancer went into remission, he began philanthropy as recognition of his gratitude to God. With time, he developed personal friendships within the Catholic Community, including a friendship with Cardinal O'Malley.

"Cardinal O'Malley has shown me the spiritual side of a humble man, who loves all persons, regardless of race, color or creed. When Cardinal Seán left for Rome, for the papal conclave in Italy, I told him that he had my vote and he could count on it," Marshall Sloane said.

Barbara Sloane met her husband when he worked at a furniture store for his father in Magoun Square, Somerville. She said the things in her life that she is most proud of are her marriage and her children.

"I'm sort of behind the gentleman that you see to my right, and I am grateful for that," she said.

She thanked her family, the guests and Catholic Charities for the honor she received with her husband.

Her children and grandchildren also spoke in front of the more-than 500 guests. Her daughter and event co-chair Linda Sloane Kay noted the connection between her family and the Catholic Church in Boston.

"I always thought that our connection was unique and special, since we're Jewish, but I never questioned it, because my family had formed such deep friendships and received such kindness in the Church," she said.

One of Sloanes' grandchildren greeted Cardinal O'Malley in Latin with a phrase meant to honor the cardinal's service at the papal conclave.

"In case you don't speak Latin here is what I said: Rome's loss is our gain," grandson Marshall Sloane said, as he introduced a video about the philanthropic work of his grandparents.

The crowd also heard from event co-chair Barry Sloane, and Mike Sheehan, president of Hill Holiday.

Featuring two video presentations, the event informed guests not only of the work of the honorees, but also the difference Catholic Charities makes in people's lives.

Maria Navarro, a daughter of immigrant parents enrolled at West Point, gave personal testimony of the help her family received from Catholic Charities as they struggled to adapt to life in the United States.

"Today I stand before you, a product of these struggles, the product of sacrifice and hard work, but also, of the understanding that we as a community are endlessly bound to one-another," Navarro said.

Cardinal O'Malley congratulated her for her hard work toward her goal of service to the nation, thanked the crowd for their support, and told the Sloane family that it was the honor of the Church to award the 2013 "Justice and Compassion Award" to the couple.

"In the midst of a world where communication is exchanged at an ever-increasing pace, and the 'lasting impressions' are measured in terms of days and weeks, the Sloane family's achievements are worthy of recognition for their longevity, their substance, and for always being directed to building for the future. Marshall and Barbara Sloane, and their family, exemplify what it means to be dependable, just, caring and compassionate witnesses to the presence of God in this world. It is our privilege to be able to honor you this evening," the cardinal said.