Father Spitzer addresses the need for a 'New Apologetics'
---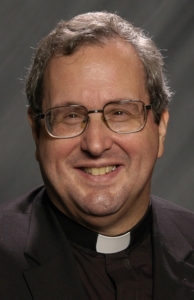 Father Robert Spitzer, SJ CNS photo/Image Studio, courtesy of Gonzaga University
Help us expand our reach! Please share this article
NEWTON -- Before an intimate luncheon crowd on April 23, author, international speaker and Magis Center President Father Robert Spitzer, SJ, recently addressed the rise of atheism and ways to combat the deep rift many agnostics perceive separating faith and reason.

"Students are starving for a coherent argument that defends God," said the former Gonzaga University president who gave a half-hour talk for benefactors of the new non-profit organization New Apologetics. "Developing resources such as books, videos and a robust online presence is crucial to the success of the New Evangelization."

New Apologetics hosted the luncheon to raise awareness of its mission to address some of the most common objections to the faith in a comprehensive way.

"New Apologetics is our response to the call for the New Evangelization," noted board chair Rachel McHugh. "The language we are using allows us to present Catholic doctrine in a way that puts things in a new light and allows those who struggle to really see the Gospel as 'good news.'"

As part of its approach, New Apologetics engages in numerous one-on-one dialogues with those who post questions on the Facebook page. Many of the questions center around the problem of evil, but queries range across the full spectrum of tough issues often invoked in criticism of the Catholic Church, Christianity and religion in general.

Any onlooker can observe discussion generally reserved for academic symposiums or intercollegiate debates, but all with ordinary people--many of whom are not Catholic or even Christian.

"We are able to dialogue with atheists, agnostics, and those of other faith traditions using a common language of human dignity and recognition of goodness, beauty and truth, which are really the basis for all truly Catholic doctrine," said Mrs. McHugh. "It's amazing to see the response we're getting."

"Can you please post the names and qualifications of the people who are running this page?" writes one of the 51,000 page fans, alluding to the fact that the contributors do not disclose their identities. "I've never seen so much authoritative knowledge coming from a single source."

"We have a board who oversees the contributors," assures Ms. McHugh. "But from the beginning we have felt that the ideas themselves should receive the attention as opposed to the individuals--I think that's part of the special sense of community we share with many of the folks who pose questions--there is no pretense or impression that we are better than they are. We're just people sharing the truth of the universal Church in the new millennium in the language of the times. And people get that."

The New Apologetics website is www.NewApologetics.com.