On opening day, shrine serves up hot dogs with a side of faith
---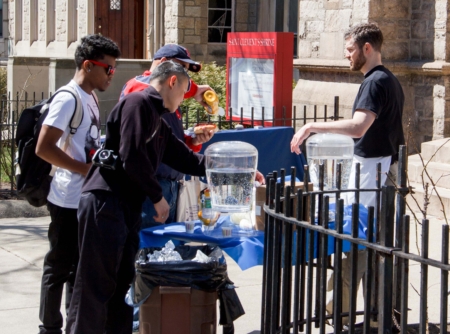 Oblate seminarian Joshua Kingdon speaks with people outside St. Clement Eucharistic Shrine in Boston's Back as they stop for a free hot dog on Red Sox opening day April 11. Pilot photo/Christopher S. Pineo
Help us expand our reach! Please share this article
BOSTON -- There is no shortage of places to get a hot dog on the day of the Red Sox home opener, but those stopping at a stand outside St. Clement Eucharistic Shrine in Boston's Back Bay had a chance to get a hot dog and perhaps something more.

On April 11, seminarians of the Oblates of the Virgin Mary and their director, Father Thomas Carzon, OMV, greeted people as they walked by the shrine on their way to the game and gave out free hotdogs to reach the community in Boston during the Year of Faith.

Father Carzon said the outreach resulted in a number of good conversations with passersby about the shrine and the Catholic faith.

"At least 400 people stopped for a moment and got something connected with the Church," Father Carzon said.

"We were able to tell them about perpetual adoration, just give them some information about our community, about the Church," he said.

At the shrine, the Blessed Sacrament remains exposed in a monstrance all day, every day, apart from regularly scheduled Mass times. Currently, the shrine offers adoration six hours or more daily.

"We had some staff and students from Berkley School of Music come by. We brought a few people into the church for just a tour, to come in and see the place, to step through the doors, and to spend a little quiet moment in the presence of Christ," Father Carzon said.

Father Carzon credited the seminarians with the idea.

"A couple of years ago, some of the seminarians saw the crowds coming and going for the games and they thought it would be a good idea to come out here and do a little outreach. So, for opening day this year we decided to ... give out free hotdogs, and just let people know that the church is here, the church is open for them, and invite them to come in," he said.

Seminarian Joshua Kingdon, a second-year postulant, gave out the hotdogs and spoke with people as two other seminarians ran the grill behind them to keep pace with the demand.

"We spend a lot of time in the classroom, a lot of time studying. I think it is exciting to be able to get out there and sort of meet with people that are in this community," he said.

He said the location helped forward the work of the outreach that day.

"I kind of like the fact that we are right smack dab in the middle of the city. You have this really diverse group of people that you can interact with and try to bring Christ to them in some small way," Kingdon said.

Corinne Bacher, 24, a grad student at New England College of Optometry who lives close by, took a tour of the shrine with a friend after having a hotdog as the two finished a run.

"We saw all the people, and the yummy looking hotdogs and the guys were really friendly, and welcomed us in and let us check out the church," she said.

"We have always wanted to check, so we appreciate it. This brought us around," Bacher added.

One Berkley student said he regularly participates in eucharistic adoration at the shrine, and came by to have a hotdog as well.

"Every morning I make an effort to go inside. As soon as I am inside, I just feel this presence that overcomes me. It is a perfect place to find the stillness within myself, and that is one of the things I am grateful for, because a lot of people try to find that within noisy places, within chaos," Byron Noemdoe, 20, said.

"There is just a natural sense of God's presence in this church especially," he said.