MIT spurs vocations as well as innovations
---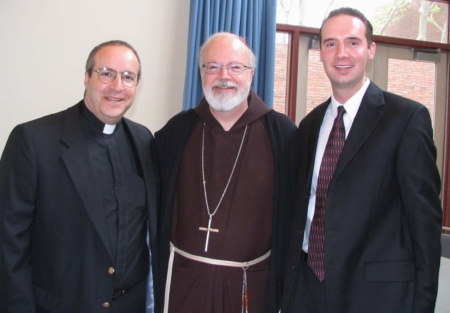 MIT campus chaplain Father Richard Clancy and Cardinal O'Malley pose with then-MIT student Deacon Joseph Laracy during a visit to the MIT Catholic center in 2007. Laracy is slated to be ordained to the priesthood in May. Courtesy photo
Help us expand our reach! Please share this article
CAMBRIDGE -- Some might not see the connection between reason and faith, between science and religion, or between engineering and the priesthood, but six alumni of Massachusetts Institute of Technology currently pursuing vocations to the priesthood make cases for these connections.MIT campus chaplain Father Richard Clancy said the list of alumni currently enrolled at seminaries throughout the United States incudes Matthew Shireman, Master of Science in Transportation, 2011; Tony Valderrama, B.S. in Computer Science, 2011; Joseph Laracy, Master of Science in Engineering Systems, 2007; Gabriel Lopez-Betanzos, B.S. in Computer Science and Engineering, 2005; Christopher Bae, Masters in Mechanical Engineering, 2008; and Kevin Stolt who graduated with a masters in 2008.

"I think if we were to sum-up a common attribute of MIT students it would be that they tend to do everything that they do with a lot of intensity and a lot of energy and commitment. So, the students who are interested in religion and religious life tend to be very serious about it," Father Clancy said.

Christopher Bae, 30, said during his time at MIT he remained serious about attending Mass every week.

"If I didn't go to church on Sunday, somehow that day that whole week was not properly ordered," he said.

He enrolled at St. John's Seminary in Brighton after a missionary trip to Haiti, but his journey in the Catholic faith began years earlier.

The native of Korea converted to Catholicism as a teenager in 1999, when his family moved to the United States.

As it became clear that he had the potential for a lucrative career after graduating MIT, it also became clear to him that he wanted something greater out of life than to work for temporal gains while ignoring eternal values.

"It was a question of what do I ultimately live for? Do I live for money? Do I live for honor? Do I live for some kind of material success? Because that would determine how I chose my next step," he said.

In his time at MIT, Bae searched for a way to help others through research.

His interest in helping people took the form of research to develop better technology for prosthetic limbs.

He said prayer played an integral role in the struggles he faced then.

"I was searching. I was interviewing a lot with professors, but I was constantly rejected. At that moment I really prayed hard to God to find with me this research position," he said.

He said the process of finding a place to do the research became frustrating as programs at MIT related to the field had no positions available, so he sought refuge in a place that had been integral to his life up to that point.

He continued going to Mass every Sunday during his studies at MIT.

"Now at the seminary, every time I study or pray to God, or am sharing the Lord with others, or am doing pastoral work, every single moment has a meaning to me," Bae said.

Tony Valderrama, 23, said he felt a clear connection between his pursuit of knowledge at MIT and his pursuit of knowledge through his Catholic faith, reflected potently in the academic and intellectual traditions of the Church. He worked closely with Father Clancy and chaplain Kristelle Angelli as a student at MIT's Tech Catholic Community.

"For me there is something very special about the MIT Catholic community. It's something that I haven't managed to find in a parish or in any of the other communities that I have been a part of," he said.

"The special factor, for me, was the closeness of the community, this daily interaction and this daily closeness to the sacraments, closeness to each other that really testifies to the power of the faith, the power of Christ binding us together in the Church," he said.

Many of the seminarians interviewed for this story mentioned the name of one graduate of MIT, celebrated for his contribution to current understandings of the beginning of the universe, Msgr. Georges Lemaitre who proposed the "primeval atom."

His proposal laid the groundwork for what came to be called the Big Bang Theory.

Gabriel Lopez-Betanzos, 29, said Msgr. Lemaitre provided a model as an objective scientist and a devout priest.

"He was simply pursuing the science as it was. He wasn't trying to prove his theory or disprove other theories. He was roundly mocked for his claiming that the universe had a definite beginning to it, and wasn't eternal. People assumed that was trying to just simply prove his faith, but in fact he was just trying to be a good scientist. I think whenever we pursue knowledge, we are indirectly pursuing knowledge of God, because God is the origin of all that exists," he said.

Father Kwang Lee, a parochial vicar at Sacred Heart Parish in Weymouth, also graduated from MIT. He joked that he wished he had majored in boiler repair because his degree in naval engineering is less handy for a priest in New England.

Father Lee graduated from MIT in 2005 and was ordained in 2011.

"To have priests who have studied different human sciences, who have had different experiences, and professional backgrounds, I think all of that can be a great help in our apostolate," he said.