From Cardinal Seán's blog
---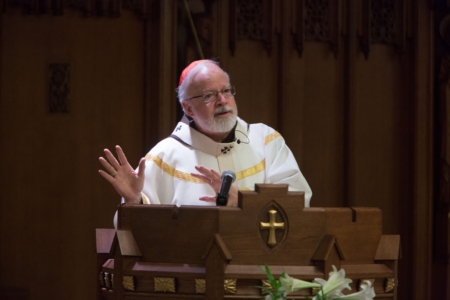 '...I was happy to celebrate the Eucharist in the Lower Chapel of the Cathedral of the Holy Cross for about 125 friends who are supporters of the Catholic Appeal, the Campaign for Catholic Schools, and Catholic Charities.' Pilot photo/CardinalSeansBlog.org
Help us expand our reach! Please share this article
On Tuesday (4/2) I welcomed Sheriff Peter Koutoujian to the cathedral. Regular readers will remember that I visited and celebrated Mass at the jail in Cambridge a few months ago and we wanted to present the sheriff with an image of Our Lady of Guadalupe for the chapel there.

Jesuits Gala

On Wednesday (4/3), I attended the New England Province of Jesuits Gala to support their retired priests and their formation programs. We have over 300 Jesuits here in Boston. It is a very large and important presence and the people have responded very generously to the needs of the province. At the gala, the New England Province presented the Ad Majorem Dei Gloriam Award to John and Rose Mahoney for their support of many local arts and civic activities as well as many important works of the Jesuits including a monthly prayer breakfast for business leaders, Ignatian Conversations for Women, and the Jesuit Connection program for young adults. The Mahoneys also have a brother, Tom Mahoney, who is a diocesan priest and is the pastor at St. Joseph's in Belmont.

Urban Affairs board meeting

Wednesday (4/3), I attended the annual board meeting of the Planning Office for Urban Affairs. The work of the Planning Office in creating housing for the homeless and low to moderate income families is a wonderful ministry of the archdiocese. We are so fortunate to have Lisa Alberghini and her excellent staff doing this for us. A constant reminder for me of the good work that they do is the Rollins Square development, which is less than a block away from the cathedral in the South End. I always enjoy the meetings because it is an opportunity for me look at the recent projects that they have undertaken to hear what is being planned. They have just completed a project in conjunction with the Pine Street Inn for the homeless there and we are now working on a project with St. Francis House.

Neocatechumenal Way blessing

Then, on Wednesday evening, I went to Immaculate Conception in Revere to give a blessing to the groups of the Neocatechumenal Way who, as a part of the Year of Faith, will be doing public missions at different places on Sundays during the Easter season. This is being done in a number of dioceses throughout the world.I am very pleased this is being done during Eastertime because I feel that we become so focused on Lent, that the Easter season is often sorely neglected. In fact, however, the Easter Season is important for us because these are the days during which Christ really establishes the Church by teaching us the new way that he is going to be present to us through the sacraments, the community and his word and promises to send the Holy Spirit.

It is a wonderful time to be evangelizing and I am grateful for all the communities of the Neocatechumenal Way who will be supporting the teams that will be undertaking these missions throughout the archdiocese.

Mass for archdiocesan benefactors

On Thursday morning (4/4), I was happy to celebrate the Eucharist in the Lower Chapel of the Cathedral of the Holy Cross for about 125 friends who are supporters of the Catholic Appeal, the Campaign for Catholic Schools, and Catholic Charities. Father Antonio Nardoianni, the pastor of St. Leonard's in the North End, concelebrated with me.

...I am grateful to these benefactors who attended, and to everyone whose generosity supports our efforts to strengthen the Archdiocese of Boston. Among those at the Mass were Terry and Susan Ragon who later in the day invited me to tour a facility that they support in Cambridge that is conducting research on the human immune system with the goal of finding a cure for HIV/AIDS.