Priests honored at annual Chrism Mass luncheon
---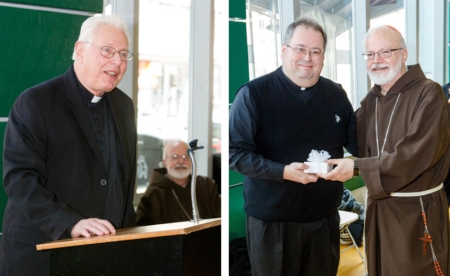 Father Arnold F. Colletti makes remarks at the luncheon after the Chrism Mass and Father John E. Sheridan receives his award from Cardinal O'Malley. Pilot photo/Gregory L. Tracy
Help us expand our reach! Please share this article
SOUTH END -- After the Chrism Mass, March 26, priests gathered at Cathedral High School for a luncheon to continue the day of fraternity and honor the pastoral service of two of their peers.

Cardinal Seán P. O'Malley gathered with the priests to honor Father Arnold F. Colletti and Father John E. Sheridan who between them have served the Archdiocese of Boston for a combined total of 74 years.

"The challenging part about coming up with two priests to honor is that there are so many who deserve to be recognized and honored," Cardinal O'Malley told the priests at the luncheon.

Father Sheridan grew up in Newton, was inspired to become a priest by Pope John Paul II's visit to Boston in 1979, and attended St. John's Seminary in Brighton before he was ordained in 1990.

"It has been a whale of a journey," he said.

Father Sheridan has served for 23 years with assignments at St. Joseph in Salem, St. James in Salem, St. Thomas the Apostle in Peabody, St. Ann in Neponset, St. Cecilia in Ashland, St. Matthew in Dorchester, St. Thomas Aquinas in Jamaica Plain, St. Benedict in Somerville, and at Marian High School in Framingham.

He will leave his assignment as pastor of St. James in Salem to serve in a collaborative in June.

"I have been blessed with a stellar rectory, and a great staff who have been very supportive of me and what we have done together. That's one of the hardest parts of letting go," Father Sheridan told The Pilot.

Father Colletti grew up in Braintree and celebrated 50 years of service to the archdiocese last February. He said he rooted for Cardinal O'Malley to become pope at the recent conclave.

"Actually, the honor I wanted was to be the next Archbishop of Boston," Father Colletti joked.

He completed his studies at St. John's Seminary in Brighton and was ordained by Bishop Jeremiah Minihan at St. Catherine's Church, Norwood in 1962. His assignments have included St. Theresa in Billerica, Our Lady of Fatima in Sudbury, Sacred Heart and St. Brigid in Lexington, Immaculate Conception in Malden.

Father Colletti said he was likely the senior priest there when he accepted the honor.

"It is a great honor, certainly, to have my peers recognize that I have worked for the Church over these 51 years, and I am very grateful for their support, their prayers, and their confidence in me. There is still more to come," he said.

Cardinal O'Malley said honoring two priests for their service is meant to honor all the archdiocese's priests.

"We honor a couple as a way of saying thanks to all of you for your generous service of God's people, for the selfless ministry that makes the Good Shepherd's love and pastoral care present and visible among us," Cardinal O'Malley said.

He told The Pilot afterward that the Chrism Mass provides an excellent venue to honor priests because it emphasizes the universal nature of the Church.

The cardinal thanked all of the priests at the luncheon before they left with the oils they will use throughout the archdiocese at each parish to administer sacraments for the coming liturgical year.

"I thank you for all of your support, for your prayers. I am so proud to be your bishop and so lucky to be your bishop, and hope that all of you will have a glorious Holy Week. Know that each day during Holy Week, and every day of the year, I lift all of you up in prayer. God bless all of you. Thank you for being Catholic priests," Cardinal O'Malley said.

See more photos at photos.pilotcatholicnews.com.