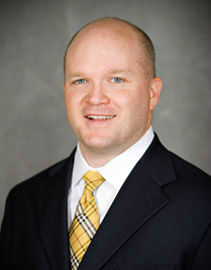 The worldwide appreciation for Cardinal Seán and Cardinal Dolan
---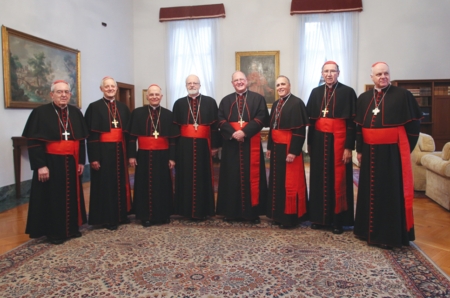 American cardinals immediately before they head to the Domus Santa Marta where they will remain for the duration of the conclave. From left: Cardinal Justin Rigali, Cardinal Donald Wuerl, Cardinal Francis George, Cardinal Seán, Cardinal Timothy Dolan, Cardinal Daniel DiNardo, Cardinal Roger Mahony and Cardinal Edwin O'Brien. Pilot photo/George Martell
Help us expand our reach! Please share this article
If you asked most American Catholics in January if they thought we would live to see an American pope, they might have responded, "that would be great but it won't happen in my lifetime!" We all believed in the long-held norm that as long as America remained an economic, political and military superpower, it was highly unlikely the conclave of cardinals would elect an American.

Then on Feb. 11 we saw something occur that we also thought we would never see. The Holy Father resigned for reasons of age and low energy. Speculation started about whom the front-running "papabili" were. American cardinals generally weren't listed in any lists, or at best, were considered "extreme longshots" that might only have a chance if the conclave was deadlocked and a compromise choice would be needed.

At the end of February things started to change, at least in the Italian media. Americans, who were considered dark horses weeks ago, were now being strongly thought of as the ones with the best gifts and skills for the challenges the Church faces today. Since then, the two receiving the most "buzz" have been our own Cardinal Seán and also Cardinal Timothy Dolan from New York. In the history of the Church in the United States, they are considered the first credible papabili, or serious candidates for the papacy.

That "buzz" has crossed the Atlantic, as the American media have heard the reports from Italy that in fact many of the cardinal-electors are talking about Cardinals O'Malley and Dolan as real possibilities. As I've gone around Rome, I've heard, first-hand, many taxi drivers, hotel workers and other people here who, when hearing that I'm from Boston, tell me that Cardinal Seán, the Cappuccino (Capuchin Franciscan) is the cardinal they hope to step out onto the central balcony of St. Peter's Basilica. Many journalists from Boston have shared with me that they have heard similar things from the Italians. Beyond Cardinal Seán's own track-record of leadership and evangelization, part of the explanation is their love for St. Francis, the Franciscan Order, and their devotion to Padre Pio, a Capuchin saint who died in 1968.

It is Wednesday morning in Rome as I write this column. When you read it, we probably will already know the identity of our new Holy Father. Regardless of what happens in the conclave, the worldwide enthusiasm for Cardinals Dolan and O'Malley cannot be overstated. I think that's a great thing for the Church in America and for the two archdioceses these men represent.

That enthusiasm has been expressed in different ways. Cardinal Seán celebrated his last public Mass before going into the conclave on Sunday morning at his titular church, Santa Maria della Vittoria. There were 80-100 journalists there to mob him when his car pulled up and then to photograph, videotape or write about everything he said and did. I had expected Boston's media professionals to be there, and they were. The interesting thing, however, was how many journalists from throughout the world were there. I met writers from Japan, Colombia, Poland, England and there were many television stations from Italy also there. I'm not sure how many media attended the Masses of the other cardinals that day, but some of the journalists at Cardinal Seán's Mass told me that they definitely think he was attracting the most media attention.

Yesterday, I was blessed to be able to attend the Mass for the Election of a Supreme Pontiff in St. Peter's Basilica. Sitting to my right was a young economics student at Rome's Sapienza University from Romania, named Mariam. I asked her if she hoped any particular cardinal would be elected pope. She responded, "Definitely Cardinal Dolan from New York!" The forcefulness of her answer made me chuckle. "You are from Romania and you really hope for Cardinal Dolan? Why?" Mariam's response was "We love him in Romania. He is so friendly, such a good evangelist, such a happy cardinal, we love his sense of humor!" I can testify, having known then Msgr. Timothy Dolan 18 years ago at the North American College that Mariam is totally right.

So the possibility exists that we may see an American pope this week or that we may never see one in our lifetimes. We leave that to the guidance of the Holy Spirit to the cardinal-electors. On a personal level, it has been awesome to witness the city of Rome and the world talk about two Catholic leaders you know and you admire as a possible pope.

Please visit our blog at TheGoodCatholicLife.com for daily coverage, photos and videos from Rome. Also, if you have any prayer requests before Sunday, March 17, please send them to PrayerRequests@PilotNewMedia.com and I'd be honored to pray for them in St. Peter's Basilica.

Scot Landry is Secretary for Catholic Media at the Archdiocese of Boston and host of The Good Catholic Life radio program that airs each weekday from 4-5 p.m. on 1060AM, WQOM.