Some speculate Cardinal O'Malley could be next pope
---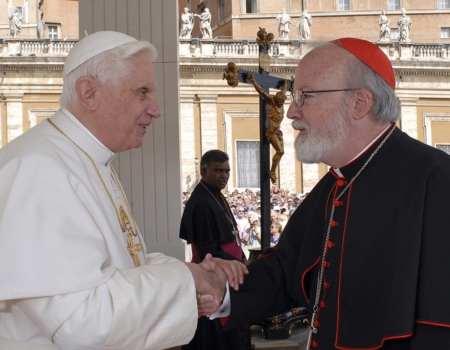 Pope Benedict XVI greets Cardinal O'Malley during a weekly general audience in St. Peter's Square at the Vatican Sept. 2007. CNS file photo/L'Osservatore Romano/Catholic Press Photo
Help us expand our reach! Please share this article
Despite the fact that Cardinal Seán P. O'Malley told reporters at a Feb. 12 press conference that he had a "round-trip ticket" to Rome for the conclave to elect the successor to Pope Benedict, speculation is growing that he may not get a chance to use it.

The 117 cardinals under the age of 80 are expected to gather at the Vatican for a conclave to elect the next pope mid-March and, up until this week, the main North Americans being talked about as "papabili" were New York Cardinal Timothy Dolan and Quebec native Cardinal Marc Ouellet, now prefect of the Congregation for Bishops.

However, the possibility of Cardinal O'Malley being tapped as the next leader of the Catholic Church was raised in a Feb. 19 blog post by National Catholic Reporter correspondent John Allen. The possibility has been echoed in numerous Boston media print and broadcast reports over the last week.

In his blog post, Allen cites examples of Cardinal O'Malley's name being floated as the potential next pope in several Italian newspapers. Allen also gives his own assessment of Cardinal O'Malley's chances.

According to Allen, among those qualities that would place Cardinal O'Malley in contention for the papacy are his linguistic abilities, connections with Catholics in the developing world, his simplicity, theological orthodoxy and strong record on dealing with the problem of clergy abuse.

Allen writes, "O'Malley's simplicity isn't just a matter of wearing his brown habit, or insisting on being called 'Cardinal Seán.' By reputation he's not given to building empires or playing political games, and on the back of the VatiLeaks mess, ongoing questions about the Vatican Bank, and other perceived Vatican imbroglios, that profile could strike some cardinals as just what the doctor ordered."

O'Malley is also passionate about the 'New Evangelization,' expressed not only in his use of Twitter and blogs, but in his general approach to the role of a bishop," he wrote.

However, Allen also notes his lack of Vatican experience, and questions about his ability to handle the high pressure world of the papacy as factors weighing against him.

The cardinal has not commented on the media speculation.

However, when asked about the possibility of being chosen as pope at the Feb. 12 press conference held to give his reaction to the resignation of Pope Benedict, Cardinal O'Malley said, "I haven't lost any sleep about it and I have bought a round-trip ticket, so I'm planning on coming home."

When asked by a reporter if that meant he did not want to be pope, the cardinal added, "I don't think that it's anything I would aspire to."

Some commentators have noted that Cardinal O'Malley's apparent lack of desire to become pope may be yet another factor making him an attractive candidate for the position.