From Cardinal Seán's blog
---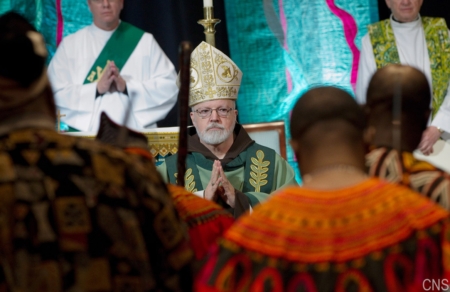 'Then, Sunday (2/10) I had the keynote address at the Social Ministries Gathering, "Promoting Human Life and Dignity in the Year of Faith. After the conference we had a multi-cultural Mass, there at the Marriott Hotel.' Pilot photo/CardinalSeansBlog.org
Help us expand our reach! Please share this article
Of course, this week we saw the announcement that Pope Benedict XVI will resign at the end of the month. Even now, I am still trying to absorb the full impact of the news that the Holy Father is stepping down.

I was on my way to the chapel of Capuchin house in Washington, D.C. at 6:20 in the morning when the superior stopped me to tell me that there was a news flash. It had just been announced that the Holy Father was resigning. So many things appear on the Internet that are just jokes or hoaxes to get a rise out of people that I said, "I don't think that can be an accurate statement." However, by the time we came out of our meditation, lauds and Mass at about 8 o'clock, it was being reported by all the mainstream news outlets. So, I realized it had to be true.

I immediately thought of the last consistory, which was held in November. At the time, I was intrigued that the Holy Father would have two consistories in one year (there had just been one in February) and have a consistory with only six new cardinals. Now we can see it as one of the indications that he was considering the possibility of stepping down for some time.

Obviously, like so many Catholics, I was shocked and saddened at the thought of losing Pope Benedict as our pope. I think that although there have been many challenges during his tenure, his great wisdom, theological acumen, and capacity to communicate the faith with confidence and joy have been such a treasure for the Church. Many people are surprised to learn that the numbers attending the papal audiences and events in Rome have actually increased under his pontificate. Obviously, part of that is due to the fact that Pope John Paul II helped raise the worldwide visibility of the pope. However, people have come to appreciate just how great a pontiff Pope Benedict is. It is often said: The people went to Rome to see Pope John Paul II, but people come to Rome to hear Pope Benedict XVI. I must say that I relate to that statement.

Even before Benedict was elected pope, I was addicted to his books. I read everything that he wrote and always found him to be such an extraordinary teacher -- a Doctor of the Church, really. So, it comes as quite a shock and disappointment to be losing him. On the other hand, I trust in his wisdom. If it is his discernment that this action is for the good of the Church, then I have absolutely no doubt in my mind that everything that Pope Benedict does is from that prism.

...And so, in this time of transition we pray that the Holy Spirit will inspire the conclave to choose the person who will best fulfill God's plan for the Church.

Ash Wednesday in South Boston

Then, of course, this week we began Lent with Ash Wednesday (2/13). I was very happy to celebrate Ash Wednesday Mass at St. Brigid's in South Boston with Father Casey and Father Blaney. It was a full church with lots of young people, which is always very encouraging to see. From all reports of the cathedral and other places, there were huge crowds who came to begin Lenten season by receiving the ashes. We hope that people will live this Lent of the Year of Faith with a renewed intensity of their life of prayer, particularly in this very important time for the Church when we truly need the Holy Spirit to guide us and help us in this conclave to discern God's will to choose the right person to be our Holy Father.