From Cardinal Seán's blog
---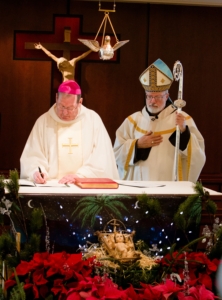 'During the Mass, Bishop Deeley made his Profession of Faith and Oath of Fidelity.' Pilot photo/CardinalSeansBlog.org
Help us expand our reach! Please share this article
In the days following Christmas I was able to spend some time visiting family. On Sunday (12/30), the Feast of the Holy Family, I celebrated Mass at the Whitehall rehabilitation center with Claire O'Malley and my aunt and cousins. That day, we had just learned of the death of my Aunt Marie, my father's youngest sister, and so we offered the Mass for her. My cousin Deacon Rob O'Malley made all the arrangements and we were very happy to gather the family on that feast day.

New Year's Eve Mass

On New Year's Eve, I celebrated the annual pro-life vigil in the North End. We were pleased to be joined by two Friars visiting from my province, Father Paul Dresser and Father Michael Meza. We had the vigil with the Rosary and Holy Hour at St. Leonard's Church followed by Mass at midnight. Afterwards, there was a reception for the young people in the parish hall. We treasure this tradition of ending the year at Mass and beginning the New Year at Mass.We are so grateful to Father Antonio and the Franciscan Friars of Immaculate Conception Province who so graciously host so many of the events for our young adults at St. Leonard's. Being in the heart of the North End on Hanover Street, it is a very popular area for young people to gather.

Mass with the Haitian Community

On New Year's Day, I celebrated Mass in Creole and French for the Haitian community at the Cathedral. January 1 is Haitian Independence Day so, when I first came to Boston, I initiated this Mass. It is something I had done in Palm Beach as well to mark Haitian Independence Day, and the response here has been wonderful. Boston has the third largest Haitian community in United States, after Miami and Brooklyn. We are very blessed to have a very strong Haitian Catholic presence here in the archdiocese. The Mass always concludes with the singing of the Te Deum, which is sung in Latin, and the national anthem of Haiti. Father Gabriel addressed the people at the end of Mass, as well.

Bishop Deeley's profession of faith

Wednesday, we celebrated the first Mass of the New Year at the Pastoral Center. This gave us an opportunity to wish a happy New Year to all the staff. During the Mass, Bishop Deeley made his Profession of Faith and Oath of Fidelity. We also blessed the pontifical insignia that we used during the ordination: the ring, crosier and miter.

Father Oliver's new position

One of the guests for the ordination (of Bishop Deeley) is Bishop Charles Scicluna, who was recently ordained the Auxiliary Bishop of Malta. He had worked for many years with Bishop Deeley at the Congregation for the Doctrine of the Faith. Bishop Scicluna is being replaced at the Congregation by our own Father Bob Oliver, who will be leaving for Rome this month. The position that the Holy Father has entrusted to Father Oliver, the promoter of justice, is a very important one. Essentially, the promoter of justice is the Congregation's chief prosecutor, in charge of investigating the most serious offenses such as crimes against the Eucharist, violations of the seal of confession and child sexual abuse. We are very grateful for the extraordinary contribution Father Oliver has made to the life of our own archdiocese in priestly formation at St. John's Seminary and his work at the Pastoral Center as well as his teaching at the Catholic University of America. He is accompanied by our best wishes and prayers that he will be able to serve the Church well in this new role.