Prayer takes center stage at Women Affirming Life breakfast
---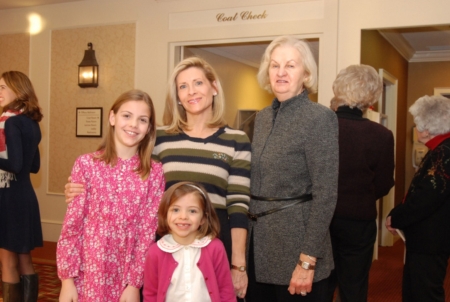 Kristine DeMatteo, center, attends Dec. 15 Women Affirming Life with her daughters Bella and Lulu and her mother-in-law Judith. Pilot photo/courtesy Sister Emmanuel Alves
Help us expand our reach! Please share this article
With heavy but hopeful hearts, more than 300 individuals gathered for the annual Women Affirming Life (WAL) and Pro Life Office Mass and breakfast on Dec. 15 at the FourPoints Sheraton in Norwood.

The day's headlines served to frame the event. Cardinal Seán P. O'Malley celebrated Mass and began with prayers for the victims in the Newtown, Conn. tragedy: "Let us all reach out in prayer to the victims of the terrible event."

Thoughts about the victims were at the forefront of the attendees' minds.

"Today, our thoughts and prayers are with all of the families in Newtown," said Michele Gallagher, who came to the event with her daughter Kelsey.

During his homily, Cardinal O'Malley noted that the day also marked the death of Mary Ann Fischer, who became famous when in 1963 she became the first woman in the United States to give birth to quintuplets.

"When Mary Ann came home, there was widespread communal support for the miracle of life," he said. "The town even held a parade in her honor."

The joy, sanctity, and preciousness of life were present at the day's events. WAL was formed in 1990 with the goals of bringing together and encouraging Catholic women to provide public witness, education, and prayer about life issues.

"When we founded Women Affirming Life, we thought that the members could serve as mentors and counsel other women about the sanctity of life," said Marianne Luthin, director of the Pro-Life Office. "That mentoring was certainly in evidence today."

Many women brought their daughters and granddaughters to the event.

"Last year, I noticed some mothers brought their daughters, so I decided to take mine along this year," said Joan Burgess, who was at the event with her daughter Molly Burgess.

Students came from local colleges, such as Harvard University and Boston College, and elementary schools, including Montrose School in Medfield, North Attleboro High School, Pope John Paul II High School in Hyannis, and St. Bridget's School in Framingham.

"Attending the event is a wonderful way to demonstrate support for mothers and their unborn children," said Gabriela Garcia, a student at Boston College, who has been attending the breakfast for a handful of years.

The attendees found solace in the event.

"This breakfast is a wonderful way to take some time out from the hustle and bustle of shopping and focus on what is really important during the Christmas season," said Kristine DeMatteo. She has been attending the WAL events for more than a decade and this time brought her mother-in-law Judith and her daughters Lulu and Bella.

Connecting was another common theme.

"The WAL breakfast presents us a good time to catch up with old friends," said Sheila Hufragle, who along with her mother Maureen awoke bright and early and drove up from Cape Cod to the breakfast. Sheila, who is a senior at Pope Pius X, planned to track down some of her elementary school friends at the event.

In his keynote speech, rector of St. John Seminary Msgr. James Moroney said prayer should be the centerpiece during this holiday season.

"Prayer must be incorporated in our daily routine: when you get up in the morning, take a break at midday, and get ready for bed at night," he said.

An important element in our prayer life is "giving thanks for the gift of being human," Msgr. Moroney said. "A baby has a dignity, not by law, but by God."

While infants are always in the hearts of the WAL attendees, that was even truer this year because of the tragedy in Connecticut. Appropriately, the WAL event ended with Msgr. Moroney leading the group in Blessed Pope John Paul II's Prayer for Life.