Archdiocese to offer online 'Catholic Faith Essentials' course beginning Jan. 7
---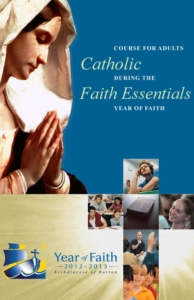 Help us expand our reach! Please share this article
In preparing the Church for the Year of Faith Pope Benedict XVI wrote, "We will have the opportunity to profess our faith in the Risen Lord in our cathedrals and in the churches of the whole world; in our homes and among our families, so that everyone may feel a strong need to know better and to transmit to future generations the faith of all times." (Porta Fidei, no. 8)

One way the Archdiocese of Boston is responding to the pope's call is by presenting a free adult faith formation course entitled "Catholic Faith Essentials." It is intended for parish groups to watch together or for individuals or married couples to watch on their own home computers, tablets or smartphones. It aims to engage Catholics during this Year of Faith in the task of reflecting on, growing in knowledge of and sharing the gift of faith.

"In his establishment of the Year of Faith, Pope Benedict invites the entire Church to a re-awakening of our hearts and minds, our affections and love, indeed our whole souls, to meet the Person of Christ Jesus," said Bishop Arthur L. Kennedy, Episcopal Vicar for the New Evangelization of the Archdiocese of Boston. "For it is He who reveals the infinite love of God that brings us into being, who nourishes us through His Church and calls us to share in His mercy and eternal life."

Beginning on Monday Jan. 7, weekly sessions will be webcast live from 7-8 p.m. The entire course involves 30 sessions, split into 5 seasons of 6 sessions each. The seasons are entitled: "Is Faith the Transforming Power in Our Lives?"; "Significant Themes from Vatican Council II"; "Significant Themes from the Catechism"; "Living the Catholic Faith"; and "Learning from the Church's Great Saints."

Sessions will be hosted live at the Archdiocese Pastoral Center in Braintree from 7-8 p.m. and will be available by webcast at www.BostonCatholicLive.com. Parishes are encouraged to host viewings so that Catholics can discuss the themes together after watching the presentation. Recordings of each session will be made for individuals or groups to watch later if Monday evenings are not convenient. These recordings will be available at www.YearofFaithBoston.org/CatholicFaithEssentials. Pre-reading materials and post-reading articles also will be made available on the website.

"The Year of Faith is a profound opportunity to grow in understanding and knowledge of our beautiful Catholic faith, especially through reflecting upon the documents of the Vatican II Council and studying the Catechism of the Catholic Church," said Michael Lavigne who is coordinating the online course.

"Catholic Faith Essentials can be an instrument of such reflection and growth in knowledge. The platform that we are using allows parishes a variety of ways to encourage participation by the lay faithful. Parishes can promote this course for the Year of Faith in conjunction with other ongoing efforts for adult faith formation such Why Catholic or the Catholicism series by Father Barron or they can host the sessions live and lead a more formal process of small group discussion at a parish site," Lavigne said.

Catholic Faith Essentials is a collaborative effort of the archdiocese's Office of the Episcopal Vicar for the New Evangelization, the Secretariat for Faith Formation and Evangelization, and the Secretariat for Catholic Media.

"We hope Catholics throughout the Archdiocese will make a New Year's Resolution to 'attend' these sessions virtually each week," stated Scot Landry, Archdiocesan Secretary for Catholic Media.

"We are blessed at the Pastoral Center to now have webcasting capabilities to be able to share great seminars and programs, like Catholic Faith Essentials, with people wherever they have a good internet connection. It is one way our team is trying to leverage the power of the new technologies to help all of us expand in knowledge of our faith and grow closer to the person of Jesus Christ," he added.

For more information and to register please visit www.YearofFaithBoston.org/CatholicFaithEssentials.