Archdiocesan High School Football Season Roundup
---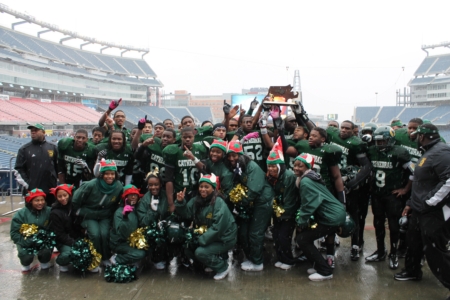 The Cathedral High Panthers celebrate their Division 4A Super Bowl win on Saturday, Dec. 1 at Gillette Stadium. Pilot photo/ Patrick E. O'Connor
Help us expand our reach! Please share this article
Cardinal Spellman vs. Archbishop Williams

Playing on Thanksgiving eve at home, the Spellman Cardinals prevailed with a 26-23 win over the Archbishop Williams Bishops. Both teams played heartily and the outcome was close. Rushing for two touchdowns was sophomore Matt Anastasi and sealing the win for Spellman was Harry Stevens with a 36 yard rushing touchdown. Spellman, led by Ron St. George (5th season) ends at 6-5. Despite the Thanksgiving Day loss, the Bishops, led by Bill Kinsherf (17th season) had a winning record, ending at 5-4 and were much improved over last years' record of 1-9.

Lowell Catholic vs. Pope John XXIII

Playing on Thanksgiving eve in Lowell, both teams came to play hard and the outcome was close. At halftime, the Pope John Tigers were up 12-0. Both teams scored in the second half but the LC Crusaders prevailed with a 20-18 win. Three Crusaders who contributed to the win were Connor Sullivan who caught a touchdown pass from Chris Regan and later scored and Adam Wentzel who led all rushers for 109 yards on 19 carries. Led by Rick Sampson (2nd season), Lowell Catholic had a great season ending at 10-1 and were much improved over last year's record of 4-6. Pope John, led by Brian Vaughn (4th season) ends at 5-6.

St. Mary vs. Lynn Tech

Playing at Manning Field, these two city rivals clashed for the 17th time and the St. Mary Spartans capped another spectacular season with a 44-12 win over Lynn Tech. Two Spartans who had a great game were Jordan Manthorne, scoring two touchdowns and Jordan Collier, three in the convincing win. Both surpassed rushing over 1,000 yards this season. Lynn Tech ends at 3-7.

St. Mary defeated Shawsheen 36-8 in a Div. 4 play-off game on Tuesday, Nov. 27 at the Manning Bowl in Lynn and advanced to the Super Bowl on Saturday, Dec. 1 against Abington at Curry College. Tied at 8 after the first, the Abington High Green Wave settled the matter in the second with a touchdown and neither team scored again. Despite the loss to Abington at 14-8, the St. Mary Spartans, led by Matt Durgin (5th season) had a great season ending at 11-2. Abington ends at 13-0.

St. John Prep (Danvers) vs. Xaverian (Westwood)

The Catholic Conference Title and a play-off appearance were on the line as these two teams clashed in Westwood on Thanksgiving morning. The Eagles prevailed with a 9-0 win over the Xaverian hawks. The score was the lowest in the 21 year rivalry. Neither team scored in the second and fourth quarter. Leading 2-0 thanks to a safety in the first, Alex Moore scored a 95 yard touchdown to seal the win for Prep. Xaverian, led by Charlie Stevenson (20th season) ends at 4-7.

Prep took on Andover in a Div. 1 play-off game on Tuesday, Nov. 28 at Cawley Stadium in Lowell and prevailed with a 21-0 win. The victory advanced the Eagles to the super bowl for the first time since 2010 against Brockton. Playing at Bentley College on Saturday evening, Dec. 1, Prep triumphed with a 48-28 win and made Coach Jim Leary (29th season) a happy man as the Eagles end at 11-1. The super bowl win is the first for St. John Prep since 1997.

Cathedral vs. Marian

Playing at Sartori Stadium adjacent to Logan Airport, the Cathedral Panthers got off to a great start, leading 38-0 at halftime. Quarterback Kejonte Hickman was on his game, throwing three touchdown passes to receivers. That was all they needed despite the Marian Mustangs scoring touchdowns in the third and fourth. Final score: Cathedral 38; Marian 12. On Nov. 10, Cathedral repeated winning the Catholic Central Small title with a 32-28 win over Pope John at Chelsea High School. Marian, led by Gene Robinson (3rd season) ends at 2-9.

Cathedral took on North Shore in a Div. 4A play-off game on Tuesday, Nov. 27 in Burlington and won the game 30-14 to advance to the super bowl on Saturday, Dec. 1 against Madison Park at Gillette Stadium. Tied at 14 at the half, neither team scored in the third and fourth. The battle was decided in a second overtime when both teams scored touchdowns but a two point conversion won it for Cathedral at 22-20. Star of the game for Cathedral was sophomore Kejonte Hickman who scored all 22 points. Cathedral, led by Duane Sigsbury (2nd season) ends at 11-2. Madison Park ends at 8-5.

Central Catholic vs. Andover

Both teams were 9-1 and the Merrimac Valley Large Title was awaiting the winner as these two teams clashed for the 40th time at Lovely Stadium in Andover.

Both teams played hard but the Andover Golden Warriors prevailed with a 22-19 win. The CC Raiders scored first, thanks to a field goal from Tom Jenoski and led 10-7 briefly. At the half, Andover led 14-10 and sealed the win in the third with a 9 yard touchdown from quarterback C. J. Scarpa followed by a two point conversion pass to Jake Flaherty. The Raiders added another three point field goal in the third and a touchdown in the fourth but fell short as time ran out. Despite the Thanksgiving Day loss, Central Catholic, led by Chuck Adamopoulos, had a great season ending at 9-2.

Arlington Catholic vs. Arlington

The Arlington Catholic Cougars lost a lot of games this fall, but ended the season with a Thanksgiving Day win over their neighbor Arlington High, 26-14, in the fifth meeting of these town rivals. At the half, Arlington led 14-13 but failed to score again. One Cougar having a good time was Kyle Bairos catching two touchdown passes. AC, led by Serge Clivio (22nd season) ends at 2-9. Arlington High ends at 3-8.

Bishop Fenwick vs. Austin Prep

The Fenwick Crusaders travelled over to Reading to take on their rival, the Austin Prep Cougars and left with a 23-22 win. At halftime, Fenwick led 8-6. The outcome was decided in the fourth. With four minutes remaining, Fenwick scored two touchdowns. The second one came on a 35 yard catch to James Traversy from Fran Hannon (MVP of the game) in 30 seconds. A two point run from sophomore Rufus Rushin was the difference as time ran out. Fenwick, led by David Woods (15th season) had a great season ending at 8-3. Austin Prep, led by Bill Maradei (34th season) ends at 4-7.

Catholic Memorial vs. Boston College High

At Viola Stadium at BC High, the home town Eagles prevailed with a 20-14 win over the CM Knights. It was the 8th straight win in the Thanksgiving Day rivalry. The Eagles scored in the first three quarters and had a commanding lead at 20-7 toward the end thanks to valiant efforts by Tim Johnson, quarterback Dan Collins and a fully recovered Luke Catarius (two touchdowns). In the fourth, the Knights scored a final touchdown but fell short as time ran out. Both teams failed to repeat last years' stellar season as injuries took their toll. BC High (Div. 1 super bowl champs last December), led by first year coach Joe Gaff end at 4-6. Catholic Memorial, led by Alex Campea, end at 2-8. Overall, BC High leads the series at 34-16-1.

Matignon vs. Chelsea

Playing at home, the Chelsea High Red Devils got to celebrate a 22-8 win over the Matignon Warriors in the second meeting of the rivalry that began last year. Matignon scored in the first and both teams were tied at 8 in the half. The Red Devils dominated in the remainder and have a 2-0 lead in the series. Rebuilding and led by first year coach Digiacomo, Matignon ends at 2-9. Chelsea ends at 2-8.

Malden Catholic vs. Waltham

Meeting for the third time in their rivalry, the MC Lancers made a visit to Waltham High and lost 40-13. Outstanding plays for the Waltham Hawks were made by Jacob Dufresne and Junior Cherry. Both combined for 246 yards and five touchdowns. Down 26-0 at halftime, the Lancers attempted a comeback, scoring touchdowns in the third and fourth but had no chance to catch up. Waltham ends at 7-3. Malden Catholic, led by Jeff Smith (2nd season) ends at 2-9.

St. Clement vs. St. Joseph Prep

Beginning a new rivalry, these two schools clashed at Victory Field in Watertown and the outcome was a 27-8 win for the St. Clement Anchormen. One Anchorman having a great day was Alberto Lopez, scoring two touchdowns. Trailing 27-0 at the start of the fourth, Prep avoided a shutout loss and scored a touchdown. St. Clement, led by Colin Walsh (10th season) repeated last years' record of 6-4. St. Joseph Prep in its inaugural season (formed out of Mt. St. Joseph Academy and Trinity Catholic) ends at 0-9.