Cardinal hosts town hall meeting on assisted suicide
---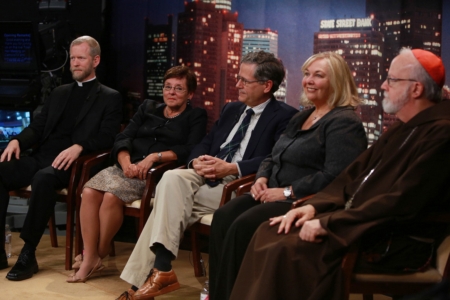 Panelists Father Tadeusz Pacholczyk, Janet Benestad, Dr. John Howland and M. C. Sullivan join Cardinal Seán P. O'Malley during the Virtual Town Hall Meeting on Preventing Assisted Suicide Oct. 3. Pilot photo/ George Martell, Pilot New Media
Help us expand our reach! Please share this article
WATERTOWN -- "Doc, how long have I got?" It is the question Dr. John Howland hates to be asked. Life expectancy is notoriously difficult to predict, and Dr. Howland is a family physician, not a soothsayer.

The doctor, who has practiced medicine for 30 years, said he once saw a patient who was so ill that he thought she would die within the day. Her care was transferred to another hospital.

"Two years later, she walked into my office, and I about fell over," he said. "I try to avoid trying to figure out when people are going to die. That's not my job. My job is to try to help care for people."

Dr. Howland spoke at the Virtual Town Hall Meeting on Preventing Assisted Suicide, broadcast live on the CatholicTV Network and WQOM 1060 AM on Oct. 3. CatholicTV has scheduled more than a dozen rebroadcasts.

The ballot initiative Question 2, "Prescribing Medication to End Life," will appear on the Nov. 6 ballot. The legislation would permit individuals who are given six months or fewer to live to receive life-ending drugs. If the majority of commonwealth voters support the measure, it will take effect in January.

Dr. Howland said terminally ill patients have the opportunity to communicate with their families. He called their final months "precious time that we all need."

Janet Benestad, the archdiocese's secretary for faith formation and evangelization, asked CatholicTV viewers to try to comprehend the grief one would experience upon discovering that a loved one had taken his or her life.

"Imagine being the spouse or the child of someone who has made this choice and not having been consulted," she said.

Such a decision could rob you of the opportunity to say goodbye and make peace with their passing. That could be reality for some Massachusetts residents as early as the New Year.

Father Tadeusz Pacholczyk, of the National Catholic Bioethics Center and priest of the Diocese of Fall River, said that ideally, people die with loved ones at their bedside, praying with them.

"You're accompanying them on a very difficult journey -- a journey which all of us will have to make one day," he said.

Cardinal Seán P. O'Malley, who hosted the program, said that suicide is never the solution to any problem. He said the ballot question presents perhaps the "gravest threat to life in the commonwealth in recent memory."

The bill's supporters use terms like "death with dignity" and call ending life "compassion." Cardinal O'Malley called them "beautiful words for ugly acts." "Helping someone commit suicide is not compassion," he said.

With less than a month before the election, he urged everyone to get the message out and called educational efforts "crucial." Concerned citizens can also show their support with bumper stickers and lawn signs available on the "No on 2" campaign's website, NoOnQuestion2.org.

Another panelist, M. C. Sullivan -- a nurse, bioethicist and attorney who is director of ethics at Covenant Health Systems in Tewksbury -- said that the response to end-of-life concerns is palliative care, which involves a team of professionals collaborating to meet the needs of the very ill. Pain can be medicated, and the emotional and spiritual needs of the patient can be addressed.

"The thing about this referendum that I find most offensive is that it's the lazy way out," she said.

Sullivan criticized the manner in which the initiative is being put forward and expressed concern that many voters would be blindsided at the ballot box.

She also lambasted the law itself, saying that it is seriously flawed. It does not require that patients seek a psychiatric evaluation in order to ensure that conditions like depression can be found and treated. The bill requires that two people witness to the decision to take life-ending drugs. Only one person is required not to be an heir and neither person needs even to know the patient. It also does not have a conscience clause for pharmacists who object to dispensing lethal prescriptions.

"This bill is ripe for abuse," she said.

Sullivan stressed that opposition to the bill is not a religious issue. Already, 35 groups of healthcare professionals, including the Massachusetts Medical Society, have come together to form the Committee Against Physician Assisted Suicide.

During the town hall meeting, CatholicTV invited questions through e-mail and the social media sites Facebook and Twitter. Panelists also answered questions from the 21 audience members.

One of them, Elizabeth Lee from North Dighton, told The Pilot after the broadcast that voters need to educate themselves about the physician-assisted suicide bill. She advised concerned citizens, "Don't let emotionalism get in the way. Get the facts. Read through the bill."

Audience member Tim Van Damm, vice president of advancement and admissions at the College of St. Mary Magdalen in Warner, N.H., said that the panel discussion highlighted how important it is for everyone to discuss Question 2 with their friends and relatives.

"If every person who saw this telecast and read about this told other people, I think we could win this," he said. "It's a matter of life or death."

The CatholicTV network will rebroadcast the town hall meeting on:

Oct. 13 at 4:30 p.m.

Oct. 15 at 8 p.m.

Oct. 20 at 4:30 p.m.

Oct. 22 at 8 p.m.

Oct. 29 at 10:30 p.m.

Oct. 31 at 7:30 a.m.

Nov. 2 at 2 p.m.

Nov. 3 at 3:30 a.m.

Nov. 5 at 8 p.m.

Nov. 6 at 6 a.m.

Nov. 6 at 12 p.m.

The CatholicTV Network is available at Verizon channel 296, Comcast 268, Charter 101, RCN 85 and at CatholicTV.com.