Obituary: Father Lawrence E. Wetterholm dies at 88
---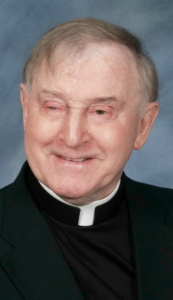 Father Lawrence E. Wetterholm Pilot photo
Help us expand our reach! Please share this article
Father Lawrence E. Wetterholm passed away at the archdiocese's Regina Cleri residence for retired priests Oct. 8. He was 88 years old.

Born Sept. 12, 1924 to Hussey and Evelyn (Duquette) Wetterholm, he grew up in Brockton. He came from a family of four sons and had a twin brother, Thomas. He attended Sacred Heart Grammar School and Brockton High School, graduating with the class of 1943.

Before entering St. John's Seminary, he played minor league professional baseball with the Phillies' organization during the 1943 and 1944 seasons and with the unaffiliated Fall River Indians in the 1946 season.

He then attended St. Anselm College in Manchester, N.H. He was later president of the alumni association and received an honorary Doctorate of Law degree in 1982.

He was ordained on Feb. 2, 1956 at Holy Name Church, West Roxbury by Auxiliary Bishop Eric F. MacKenzie. He offered his first Mass on Feb. 5 at St. Colman Church in Brockton.

His first assignment following ordination was as parochial vicar at St. Albert the Great Parish, Weymouth, where he served until 1958. He also served as parochial vicar at St. Leo Church in Dorchester from February 1958 to 1961.

In September 1961, Father Wetterholm was assigned as assistant pastor at St. Christopher in Dorchester. He was appointed administrator at St. Christopher on Nov. 30, 1971, and then pastor on Dec. 11, 1973.

He was appointed administrator of Sacred Heart Parish in Lynn on June 10, 1975. On Sept. 16, 1975 he was appointed pastor of Sacred Heart and served there for 12 years, until July 1987.

In July 1987, Father Wetterholm was named pastor of St. Joseph Parish in Ipswich.

On July 1, 1997, the Ipswich parishes of St. Joseph, Sacred Heart (French) and St. Stanislaus (Polish) merged into a new parish with the name Our Lady of Hope. Father Wetterholm served as pastor of Our Lady of Hope until he was granted senior priest-retirement status in November 2002.

He became a resident of Regina Cleri in January 2003.

His funeral Mass was held on Oct. 11 at St. Joseph Church in the West End. Abbot Mark Cooper, OSB, of St. Anselm's College was the principal celebrant and Father Francis D. Garrity was the homilist. Designated concelebrants included Msgr. George F. Carlson, Father A. James Bertelli, Father John F. Carmichael, Father John Mark Hannon, Father John J. McCormick, Father John W. McElroy, Father John F. Mulloy and Father E. Paul Sullivan.

Interment was at Calvary Cemetery in Brockton immediately following the funeral.

He is survived by his nieces, Sue Creedon and Cathy Sawyer, and his nephews, Paul Wetterholm and Jay Wetterholm, all of Brockton, as well as several grandnieces and grandnephews.