Boston area faith leaders meet to oppose assisted suicide
---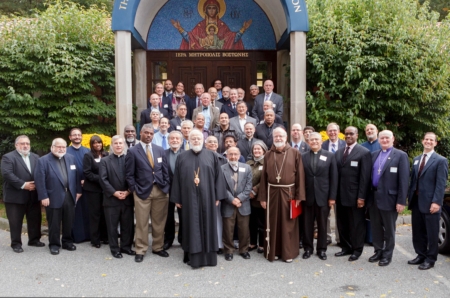 A group of more than 60 religious leaders, representing more than 20 Christian denominations as well as other religions, gathered at the Greek Orthodox Metropolis of Boston Oct. 9 to discuss ways faith groups can work together to oppose the November ballot question to legalize physician assisted suicide in Massachusetts. Pilot photo/ Gregory L. Tracy
Help us expand our reach! Please share this article
BROOKLINE -- Greek Orthodox Metropolitan Methodios greeted the leaders of more than 20 Christian denominations and other religions at the Greek Orthodox Metropolis of Boston Cathedral Center on Oct. 9 to discuss how they can work together in opposing a November ballot question to legalize physician assisted suicide.

Remarks during the meeting of the more than 60 religious leaders were closed to the media, but participants spoke with The Pilot afterward.

Metropolitan Methodios said he took pride in inviting the different religious leaders to learn about and discuss the ballot initiative.

"It was a great honor for me today to host this meeting of the ecumenical leaders of Greater Boston to discuss a very important subject for all of us, and that is physician assisted suicide," the metropolitan said.

During the meeting, Peter Cataldo, chief healthcare ethicist for the Archdiocese of Boston, built a case around four points for the faith community to stand against legalized suicide.

He said concerns for human dignity, human freedom, stewardship of life, and the response to human suffering reside at the heart of faith-based motivation against physician assisted suicide.

He explained each point for The Pilot after the event.

"The proponents of physician assisted suicide reduce the concept of human dignity to control," he said.

Contrary to this position, he said, people of faith who oppose physician assisted suicide hold human dignity up as intrinsic and separate from issues of personal choice.

He said proponents of the ballot misuse the idea of human freedom, by proposing that helping someone end their own life or giving them the means to do so is a kind of advocacy for the dying.

"To be good stewards of life means to always care for life, not to eliminate life or end it in the name of stewardship. That is a false stewardship," he said.

He said proponents rest their argument on the idea of preserving self-determination and ending or preventing suffering.

"When you look at it carefully and closely, physician assisted suicide does not end suffering. It is directed at ending the patient, which should not be confused with ending suffering," Cataldo said.

In a discussion during the meeting, pastors, priests and other religious leaders expressed their own concerns regarding the issue.

Rev. Eugene F. Rivers, pastor of the Azusa Christian Community in Dorchester and a cofounder of the Boston TenPoint Coalition, expressed concern that the public discourse regarding physician assisted suicide presents it as a Catholic issue, and said he would like the public to see the face of diversity united in the meeting to oppose the measure.

"This is a diverse interfaith campaign for life, in opposition to Question 2, the ballot question. There is a diverse unified opposition to physician assisted suicide," he said.

Rev. Rivers also added that the challenge created by the controversy creates an opportunity for the broader community of faith to come together.

"The smart way to fight this campaign is to do everything we can to not have this perceived as a Roman Catholic initiative. It is an ecumenical and interfaith initiative, and that is how we ensure our success in terms of the ballot question. I think that is a tactical imperative," the pastor said.

Pastor William E. Dickerson, senior pastor at Greater Love Tabernacle in Dorchester, added to the call for a unified stance by people of faith against physician assisted suicide.

"When we say 'physician assisted suicide' or any other label we put to it, suicide is suicide. Suicide is wrong," the pastor said.

"Who should call a shot or make a decision on somebody else's life? That's not fair. So, I think morally we need to stand together and unify ourselves and recognize that to say 'No' is the only rational and best thing to do for everybody involved," he said.

He said in his ministry he has observed inconsistency in six-months-to-live diagnoses offered by physicians -- a stipulation presented in the wording of the bill concerning patient access to life ending drugs.

"I have known people that I have worked with that were terminally ill, and the doctor said they only had six months or even less to live, but they are still living to this very day. So, we can't try to put ourselves before God or in the place of God and disrespect the process of life," he said.

Director of communications and past president of the Islamic Center of Boston, Dr. Abdul Cader Asmal worked as a physician for just over 47 years and said the idea of suicide is antithetical to the basic principles of his training as a physician and the tenets of Islam.

"Suicide and Islam are not compatible, and certainly, in that sort of thinking, physician assisted suicide is no better," he said.

Metropolitan Methodios said he admired the unity displayed by the religious leaders.

"I was very pleased with the response, first the people that came, the diversity of the people that came. There weren't just Orthodox, Catholics and Protestants, but brethren of other faiths that were here," Metropolitan Methodios said.

"I was thankful to God for the unanimity of spirit that was shown and that everyone contributed to the meeting," he said.

Cardinal Seán P. O'Malley used the words of St. Ignatius of Loyola to describe the struggle of people of faith against physician assisted suicide.

"We must pray as if everything depended upon God, and work as if everything depended upon us," he said.