Msgr. Abucewicz, former Lowell pastor, dies at 92
---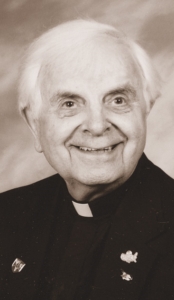 Msgr. John A. Abucewicz Pilot file photo
Help us expand our reach! Please share this article
Msgr. John A. Abucewicz died peacefully Aug. 29 at Holy Family Hospital in Methuen. He was 92 years old.

Born in Lowell on Jan. 25, 1920, he was one of two sons of Peter and Mary (Lysz) Abucewicz. He grew up in a Polish-American family where faith and traditions shaped his Polish identity.

He studied at St. John's Seminary and was ordained at Holy Name Church, West Roxbury on Aug. 10, 1944 by then-Bishop Richard Cushing during the brief period he served as apostolic administrator of the archdiocese following the death of Cardinal O'Connell.

His first assignment following ordination was to St. John the Baptist Church in Salem, where he served for four years. In May 1948, he was transferred to St. Hedwig's in East Cambridge, and served there for less than a year before entering the U.S. Navy as a chaplain in January 1949. He served at Camp Pendleton in California.

Shortly after reporting for duty, he landed a part as an extra in the 1949 John Wayne film, "The Sands of Iwo Jima," which was being shot at Camp Pendleton. He makes a brief appearance in the film playing a chaplain anointing a wounded Marine.

He served in the military for 22 years, during the period of both the Korean and Vietnam Wars.

It was during the time of his service that Pope Paul VI named him a Domestic Prelate (now, Prelate of Honor) with the title of Reverend Monsignor on April 26, 1967.

In September 1972, he returned to the archdiocese and was named assistant at Holy Trinity in Lowell. Four years later, in December 1976, he was made pastor and continued to serve at the parish until he was granted senior priest/ retirement status by Cardinal Bernard Law on Jan. 3, 1995.

He regularly celebrated Mass in both Polish and English and was noted for ministry to the Polish-American community of Holy Trinity and throughout the archdiocese.

A man of many artistic talents, Msgr. Abucewicz was the author of three novels, "Fool's White," "A Seamless Garment," and "Cast the First Stone," as well as two plays. He was also an avid painter having painted more than 100 works, 28 of which are original Madonna paintings.

After lying in repose at Holy Trinity Church in Lowell on Sept. 3, his funeral Mass was celebrated Sept. 4, also at Holy Trinity. Father Andrew Grelak of St. Stanislaus Parish in Chelsea was the principal celebrant and homilist. Designated concelebrants included Msgr. Stanislaw Kempa, Father Arthur M. Coyle, Father Joseph S. Lukas and Father Louis S. Bilicky. Interment was at Holy Trinity Cemetery.

He is survived by his niece Marie A. Kostoulakos and her husband Dean of Methuen, and nephew, Joseph A. Abucewicz of Atkinson, N.H.