Black Catholic Choir celebrates 20th year
---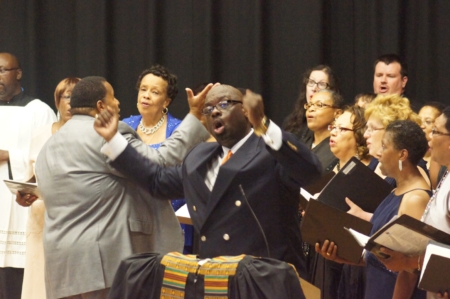 Pierre F. Monette, Jr., sings lead vocal as founding director Meyer J. Chambers directs the Archdiocese of Boston Black Catholic Choir at a Mass on June 30 celebrating 20 years together in ministry. Pilot photo/Christopher S. Pineo
Help us expand our reach! Please share this article
DORCHESTER -- The Archdiocese of Boston Black Catholic Choir celebrated their 20th anniversary with a Mass and dinner gala at Boston College High School on June 30, using the theme "Yes Lord." It was part of a two-day celebration that began with a workshop on June 29 from a nationally recognized Catholic Gospel singer.

Lorna DesRoses, director of the Office of Black Catholics, said the theme demonstrated the idea of total commitment to ministry and to God.

"When you become part of the choir it is not simply, 'OK, we're a choir. We're going to sing these songs. We're going to sound pretty.' This is a ministry. This is a way of praying. This is a way of reaching out to others," she said.

Bishop John A. Dooher celebrated the Mass for more than 50 attendees before the dinner, with Father Gerald Osterman concelebrating.

"Jesus wants us up close and personal. He wants us to touch him, and he wants to touch us," Bishop Dooher said in his homily.

During the Mass, the choir performed musical arrangements composed by W. Clifford Petty, a gospel composer and recording artist from Alabama, who was a special guest at the Mass and ran the workshop for the choir the evening before.

At the dinner following the Mass, news anchor Latoyia Edwards from New England Cable News served as the evening's emcee.

"She was raised in Dorchester. Her family attended St. Francis de Sales parish before it merged into St. Katherine Drexel, so she has a long history within the black Catholic community," said DesRoses.

Guests heard a selection of songs from the choir at the dinner, culminating when soloist Georgia Grace led them in singing "Completely Yes" by Sandra Crouch.

Pierre F. Monette Jr. delivered the celebration's keynote address.

In his talk he emphasized the nature of the Church in current times, accepting people along with their traditions as they come into communion even through difficulty.

"Catholic with a small c means universal, meaning everyone is welcome, and with that I would suggest it means that everyone is able to bring his or her culture to the celebration," he told the crowd.

On the advice of fellow choir member Amon Robinson, Monette had invited Petty to lead a workshop for the choir before the event.

"He kicked off the weekend, that Friday evening, with the choir workshop at St. Angela Parish in Mattapan," Monette said.

Monette said choirs from all over the Boston area attended the workshop and came from as far as Rhode Island.

"It was really phenomenal. It was an excellent way to kick off the weekend," he said.

Monette said the workshop developed familiarity with Petty's musical arrangements, which the choir used in the Mass.

Choir director Meyer Chambers spoke about the history of the choir and its tradition at the dinner.

"Like a tightly knit family, we have come together. We have rejoiced together, thereby multiplying our joy. We have cried together, thereby reducing our pain," Chambers told the crowd.

Meyer Chamber started the choir by bringing together a few members of the local black Catholic community to celebrate Martin Luther King, Jr. Day in 1992.

The 45-member choir and members from throughout the Archdiocese of Boston have traveled nationally and internationally over their 20-year ministry.

On a trip to Italy the choir once sang for his Holiness Pope John Paul II at a general audience.

Other journeys included a Caribbean cruise, where members sang a Mass at the Cathedral of Old San Juan in San Juan, Puerto Rico, and performed at an outdoor concert at Emancipation Gardens, in St. Thomas, U.S. Virgin Islands. The choir also went on a performance tour of Ireland in 2008.

"It was just an unbelievable experience, and the people that we met in all of these different cultures, and it just transformed us. Really, it is what has kept us together," Chambers told The Pilot.

At the dinner Chambers compared the choir's efforts to continue improving to making a cake while keeping "the mixture of our song just a little fresher, just a little newer, while remaining faithful to the flavor for which we have become known," Chambers said.

"Though people love it when we sing concerts, we are at our best when singing the liturgy," he said.

[Editor's note: Audio of interviews with DesRoses, Petty, Chambers, as well as music from the 20th Anniversary Mass Celebration are available at www.PilotCatholicNews.com.]