Obituary: Father Joseph Moynihan, Westwood pastor for 22 years, dies at 80
---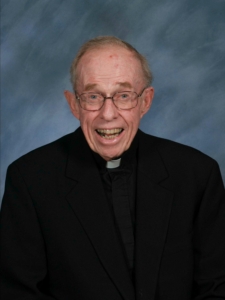 Father Joseph Moynihan Pilot file photo
Help us expand our reach! Please share this article
Father (Timothy) Joseph Moynihan passed away June 23 in Westwood. He was 80 years old.

Born in Brighton on March 26, 1932 to Michael J. and Julia (Casey) Moynihan, he was the brother of Mary Keen and Julianne Burke and brother-in-law of Arnold Burke and the late Robert Keen, all of Stoughton.

Father Moynihan attended St. John's Seminary and was ordained on Feb. 2, 1957 at the Cathedral of the Holy Cross in Boston by Cardinal Richard J. Cushing.

Following his ordination, his first assignment was to St. Margaret Parish in Saugus. In February 1965 he was named parochial vicar at St. Benedict Parish in Somerville and, in September of that year, was named parochial vicar at St. Bridget Parish in Framingham, where he served from 1965 to 1971.

In August 1971, he began his 12-year ministry as chaplain at Newton-Wellesley Hospital. During that time, he was in residence at St. Philip Neri Church in Waban.

In August 1983, in one of his last appointments of a pastor, Cardinal Humberto Medeiros named Father Moynihan pastor of St. Margaret Mary Church in Westwood. He served there for 22 years, seeing the parish through a time of great growth and change. He was granted senior priest/retirement status by Cardinal Seán P. O'Malley on Jan. 10, 2005.

He is survived by his sisters and brother-in-law, as well as eight nieces and nephews and many cousins.

He will lie in state at St. Margaret Mary Church in Westwood on June 29 followed by a Mass of Christian Burial on June 30, also in St. Margaret Mary Church. The designated homilist is Father Stephen J. Linehan. Interment will be at Evergreen Cemetery in Brighton immediately following the funeral Mass.