From Cardinal Seán's blog
---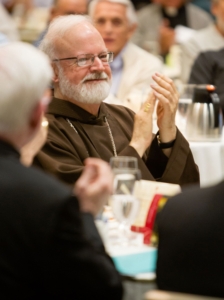 'Thursday (6/7), we had our annual convocation with priests of the archdiocese. I think the day was a very positive experience for all of us.' Pilot photo/Gregory L. Tracy
Help us expand our reach! Please share this article
... I want to mention today's (6/8) rally in defense of religious freedom on the Boston Common. The rally was part of the nationwide effort to Stand Up For Religious Freedom. In March, 145 cities including Boston each held rallies. Even more cities participated this time including other local rallies in Worcester and Leominster. Janet Benestad who is our cabinet secretary for faith formation and evangelization was representing me at the event and was one of the speakers, together with Father Tad Pacholczyk and Sister Olga Yaqob. Scot Landry and George Martell also represented the Archdiocese of Boston at today's Boston rally. Other speakers included former Ambassador to the Vatican and Mayor of Boston Raymond Flynn, Kris Mineau from the Massachusetts Family Institute, young adult Ann-Marie Warner, Herald columnist Don Feder, and Alexis Walkenstein from the Maximus Group. We appreciate the more than 300 attendees who took a stand today in support of religious freedom on the Common.

These rallies confirm how anxious people are to begin to underscore the importance of religious freedom which is being threatened in so many different venues but particularly with this mandate that redefines Catholic institutions as those that serve exclusively Catholics or are entirely staffed and run by Catholics, in this way eliminating from that category many of our schools, hospitals and other social agencies like Catholic Charities. The U.S. Bishops recently announced the "Fortnight for Freedom" initiative which will take place from June 21 through July 4. This special period of prayer, study, catechesis and public action will emphasize both our Christian and American heritage of liberty. Dioceses and parishes across the country have scheduled special events that support a great national campaign of teaching and witness for religious liberty. One of the most significant ways we are marking the Fortnight in the Archdiocese of Boston is by holding an interactive live town hall meeting on June 25 at 8:00 p.m. on CatholicTV, www.CatholicTV.com, and 1060AM WQOM. We will have some short presentations regarding the issues and what is at stake and then we will take questions from the studio audience and from the viewers who can submit questions via Facebook, Twitter and Email. Please mark your calendars, join us and perhaps submit a question.

Evening with New England religious education directors

... on Wednesday (6/6) I had Mass and dinner with the New England Religious Education Directors at Miramar retreat center in Duxbury. We had Mass and dinner and then we had a conversation with questions and answers in the evening. Claire McManus of Fall River is the president of the association. Susan Abbott and Susan Kay from our Office of Religious Education were the hosts of the gathering. The directors of the dioceses of New England gather every year for a couple of days and I was very pleased to spend an evening with them.

Priests' convocation

Thursday (6/7), we had our annual convocation with priests of the archdiocese. It was a joy to have Bishop Richard Malone here to deliver our keynote. As I told the priests, he is a wonderful example of the extraordinarily fine priests who have been produced by the Archdiocese of Boston. ... Msgr. William Fay led us through the day and Father Michael Medas did a wonderful job in organizing the gathering. I was very happy that so many members of the Pastoral Planning Commission who work closely with Msgr. Fay and Deacon Chuck Clough were able to be with us. We are grateful to Father Paul Soper for agreeing to become interim director of the office. We are delighted so many priests were able to be here to express their ideas on pastoral planning through their various questions. I think the day was a very positive experience for all of us.