Anti-trafficking discussed in Boston
---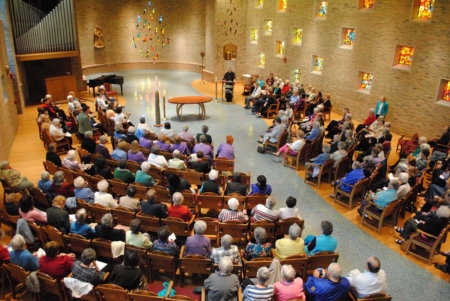 Participants attend an anti-trafficking symposium at the motherhouse of the Sisters of St. Joseph in Brighton May 5. Pilot photo/Courtesy Sisters of St. Joseph of Boston
Help us expand our reach! Please share this article
BRIGHTON -- Over 225 participants gathered for a symposium on consumerism and the many faces of human trafficking in Boston May 5.

This was the fifth such event offered by the Boston Unit of the Leadership Conference of Women Religious (LCWR) Anti-trafficking Coalition since 2008.

Topics ranged from an introduction to human trafficking globally, nationally, and locally; to looking at what one person can do; to the latest topic of how consumer's buying power can become a tool for addressing human trafficking.

The question of what individuals can do to combat human trafficking was addressed right at the beginning of the symposium, as participants watched a brief YouTube video titled: ''Where Am I Wearing?'' by Kelsey Timmerman. As the morning progressed, presenters continued to address the way individuals can become inadvertently complicit in human trafficking by the products they use every day.

Father David Couturier, OFM Cap., past president of Franciscans International, an NGO at the United Nations (2000-2003) and former director of Pastoral Planning for the Archdiocese of Boston, was the first keynote speaker. In addressing the group on consumerism and the supply chains of human trafficking, he asked, "What can we do?"

"We must," he said, "undertake an examination of consciousness when it comes to corporate human trafficking."

Father Couturier then asked some questions to the audience. "Do I care whether the products I buy or use are tainted with human slavery? Are the price, convenience and availability of goods more important to me than the possibility that those goods might be the result of slave labor? How much time and effort am I willing to invest in determining whether a product is the result of trafficked labor? How willing am I to make this problem of human trafficking personal? How willing am I to work with others to eradicate slave labor from my home and dinner table?'

The second keynote presenter was Kate Price of the Jean Baker Miller Training Institute at Wellesley College. Price, being a survivor of childhood sexual exploitation, used her personal experience to inform and educate others. She spoke about buying power and how consumerism and the sexualization of children put all kids at risk.

Toward the end of the symposium, Kathy McCluskey, CSJ, former Executive Director of the U.S. Federation of the Sisters of St. Joseph, summarized the work of the collaborative efforts of the federation to address human trafficking as it exists in hotels throughout our country. Karen McLaughlin, a major architect of the Massachusetts Anti-Trafficking Law passed last November, thanked the coalition for their advocacy and persistence in making this law a reality.

Women religious congregations in the greater Boston area have been offering educational opportunities on the issue of human trafficking since 2008.