Father Sepe named Secretary for Parish Life and Leadership
---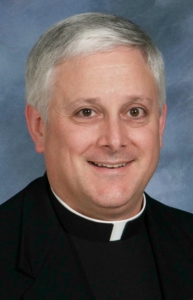 Father Kevin M. Sepe Pilot file photo
Help us expand our reach! Please share this article
BRAINTREE -- The Archdiocese of Boston announced April 18 that Cardinal Seán P. O'Malley has appointed Father Kevin M. Sepe to succeed Father Thomas S. Foley as Episcopal Vicar and Secretary for Parish Life and Leadership July 1.

The episcopal vicar and Secretary for Parish Life and Leadership oversees various offices in the day-to-day operation and matters dealing with clergy life and parish life including the offices of Clergy Funds, Pastoral Planning, Clergy Formation, Clergy Personnel, Clergy Outreach, Pastoral Care of Priests, Priest Recovery Program, Senior Priests and Regina Cleri are all associated with this office.

In addition the secretary also oversees the offices of Ecumenical and Interreligious Affairs, Vocations, the Permanent Diaconate and Lay Ecclesial Ministries.

"The cardinal asked me to take the position and I was daunted by it, because I was aware of the expectations and the parameters of the responsibilities, but I also know that it is a vital role," said Father Sepe, who is currently pastor of St. Francis of Assisi in Braintree.

Father Sepe provided pastoral leadership at St. Francis of Assisi Parish in Braintree since 1998. After being ordained in 1986 he served at St. Joseph Parish in Quincy, Sacred Heart Parish in Middleboro, and St. Mary Parish in Randolph.

During his 13-year tenure as Pastor at St. Francis, Father Sepe completed enhancements to the church, the school and the rectory as well as overseen growth in enrollment at St. Francis of Assisi School.

He has assisted the South Regional Bishop as a vicar forane, promoting priestly fraternity among local priests and coordinating communication among the parishes and with the Cardinal and the Presbyteral Council.

Father Sepe said he also provided temporary housing at St. Francis for priests recovering from sickness or injury.

"Caring for priests has always been a priority in my life," he said.

Father Sepe has also served as a member of the Clergy Personnel board for the past eight years and has supervised several Blessed John XXIII seminarians over the past 12 years. During that time, he guided twelve men from across the country in their final priestly formation.

Father Foley expressed confidence that Father Sepe, who is his seminary classmate, will do well in his new position.

"I have known him all these years and admired him. Father Sepe has been a tremendous parish priest, a hard worker, very well organized, excellent administrator, very good at working with people, running things, and getting jobs done," Father Foley said.

"He is blessed with a very realistic outlook on life, and on everything. He has just got this realism about him, a practicality, and I think that is a trait that will serve him very well," he said.

Father Sepe offered his thoughts on his former classmate's future calling and his own responsibility in the new role.

"I wish Father Tom (Foley), my classmate, the very best for a job well done. He stepped up to the plate early on and addressed the needs very efficiently and effectively," Father Sepe said.

"I hope to be as effective as Father Tom was, as I bring my gifts and talents to the same job description," he added.

Father Foley will step down from his position as Episcopal Vicar in July to serve the men and women of the armed forces in the military chaplaincy program.

"As many chaplains will speak about, I sensed the call within the call. It just kept becoming more and more prominent in my prayer that this perhaps is what the Lord is calling me to now," he said.

He said in the past year, six priests have returned to the archdiocese from active duty with the Archdiocese for the Military Services.

"Boston has had a very fine tradition of sending priests to the military. The need is there and it just seemed that this might be the opportune moment for me to apply," Father Foley said.

Ordained in 1986, Father Foley became episcopal vicar in 2008.

Vicar General Msgr. Robert P. Deeley said Father Foley served the Church in strengthening and enhancing the Archdiocesan clergy fund, coordinating support and outreach for priests, collaborating with pastors and parish leadership on programs and initiatives that enhance parish life, and encouraging priestly vocations, in the role. Msgr. Deeley also said Father Foley was involved in the pastoral planning initiative currently under review across the archdiocese.

Prior to joining the cardinal's cabinet, Father Foley served as Pastor at St. Ann Parish in Dorchester. He previously served as parochial vicar at Sts. Martha and Mary Parish in Lakeville, St. Eulalia Parish in Winchester, St. Mary Parish in Winchester, and as administrator of Immaculate Conception Parish in Winchester.

"I join Cardinal Seán, and the entire Archdiocese, in thanking Father Foley for his fine service and leadership these past four years. We welcome Father Sepe to his new role as Episcopal Vicar and Secretary for Parish Life and Leadership and we have great confidence in his commitment and ability to continue the important work underway," the vicar general said.