Educators become learners at convention
---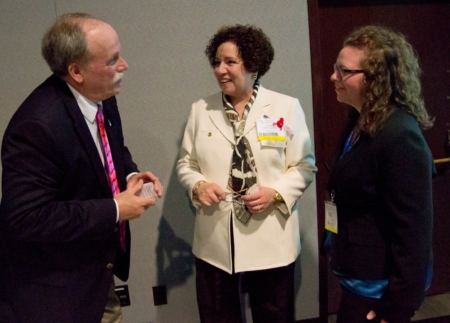 Presenter Skip J. Shannon of Partners in Mission speaks with Superintendent Mary Grassa O'Neill and Caitlin Keeton, principal of St. Rose of Lima School in Chelsea following his workshop April 12. Pilot photo/ Christopher S. Pineo
Help us expand our reach! Please share this article
BOSTON -- Superintendents, principals and teachers said the most important thing they did at the National Catholic Educational Association 2012 Convention and Expo was learn.

The headmaster emeritus of St. John's Preparatory School Skip J. Shannon, a partner at the educational consulting firm Partners in Mission, ran one of the more than 300 professional development sessions at the conference.

He said educators participating in the workshops demonstrated a commitment to constant improvement.

"When you put 80 people in a room who are looking for ideas on how to do their planning, I think it really indicates that there is a need for good, strong, educated people out there to say, 'We're good but I need to move to great,'" Shannon said.

Superintendent of Catholic schools for the Archdiocese of Boston Mary Grassa O'Neill said the development sessions provided teachers an opportunity to learn ways to better serve students in the Catholic education system.

"I am a lifelong learner and learning energizes me. So, I am very excited to be able to go to sessions," O'Neill said.

Caitlin Keeton, the principal at St. Rose of Lima School in Chelsea, brought most of the staff from her school and asked each individual to attend different workshops and take detailed notes. After the conference, the staff will gather to share what they learned with one another.

"The opportunity to attend national conferences and conventions does not come along very often. Normally they are in other places, so that would involve paying for flights, hotels, and all these kinds of things. So, with the opportunity to have it right here we did make it a priority," she said.

Teachers from Central Catholic High School in Lawrence, spoke to The Pilot about their experiences and the information they picked up at the conference.

"To be among my peers, my colleagues, and all the other resource vendors is a tremendous support opportunity to certainly have continuing education, but also to grow in fellowship and community," Scripture teacher at Central Catholic Eric Alaimo said.

He said the conference highlighted the opportunity to reach students through digital media, even in such Church initiatives as the New Evangelization.

"It is moving far beyond just having a catechism and a catechist, to moving into a multi-dimensional way of learning, living, and growing love of their faith," he said.

Kristin Campbell, religion teacher at Central Catholic, noted that she felt inspired by seeing the other educators at the conference.

"It is really nice to see other people who share the same passions and vocations as we do. To meet other people and to see what else is going on around the country puts us in touch with something bigger than ourselves," Campbell said.

O'Neill said coming together for events like the conference can prevent Catholic educators from becoming isolated in "silos."

"The ability to learn together from some of the best and the brightest minds from universities, from Catholic dioceses and from individual classroom teachers is something that is a unique experience, one that should not be missed and should be celebrated. Ultimately all of us here are working so that things will be better in the classroom," O'Neill said.