Sisters of Charity celebrate 125th anniversary in the archdiocese
---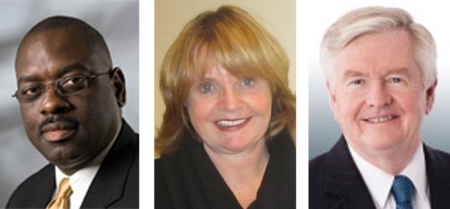 Pierre Monette Jr., Mary Joyce Morris, and Dan Rea Courtesy photo
Help us expand our reach! Please share this article
On April 12, the Sisters of Charity, Halifax will celebrate the 125th anniversary of their presence in the Archdiocese of Boston at Lantana in Randolph. The congregation, established in 1849 in Halifax, Nova Scotia, has had a strong presence in Massachusetts since 1887 when they arrived to teach at St. Patrick School, Roxbury. Their work continues throughout New England today, teaching students from kindergarten to the university level, and working in healthcare, social service and pastoral care.

This year's Elizabeth Ann Seton Honoree is Attorney Pierre Monette Jr. Pierre, a member of the Archdiocese of Boston Black Catholic Choir and a mentor to many youth and young adults. The Office for Black Catholics for the Archdiocese of Boston has also honored him with the Bishop James Augustine Healy Award, named after the first African American Catholic Bishop in the U.S., who was once a priest in Boston.

Serving as honorary chair for the event is Mrs. Mary Joyce Morris. Born in Galway, Ireland, Mary earned a degree in Speech from Emerson College and worked on the staff of Attorney General Robert Quinn, and later for House Majority Leader William "Biff" MacLean, Jr. Since then, she has served as a consultant on many events in and around Boston. Mr. Dan Rea, WBZ-TV journalist and the host of Nightside on WBZ News Radio, will serve as Master of Ceremonies.

Entertainment for the event will be provided by the Archdiocese of Boston Black Catholic Choir, a 45-voice choir which focuses on music from the Black Catholic perspective. The choir is under the direction of Mr. Meyer J. Chambers, Campus Minister for Liturgical Arts at Boston College. Mr. Amon B. Robinson, a vocalist, saxophonist and pianist currently studying at Berklee College of Music, will also be performing at the event. Robinson serves as youth minister of music at St. Patrick Parish.

All proceeds from the event will benefit the congregation's ministries, and their healthcare and retirement needs. For more information, please contact the Advancement Office at 781-997-1210 or rprevite@schalifax.org.